Investing is all about balancing your risk with your potential reward. Some investors love buying stocks that have incredible potential. They want to find companies with tons of room to grow. This usually leads to outsized returns. However, there are downsides to these types of stocks. If these companies don't meet investors' expectations, the stock price can plummet. This means that they are very high risk. On the other hand, some investors want to lower their risk as much as possible. They can do this by investing in stable industries, such as warehouse stocks. There are tons of safe industries that should still produce a decent return.
Since the COVID-19 pandemic, the commercial real estate industry has undergone some extreme changes. Before jumping into the best warehouse stocks to buy, let's examine the state of the overall commercial real estate market.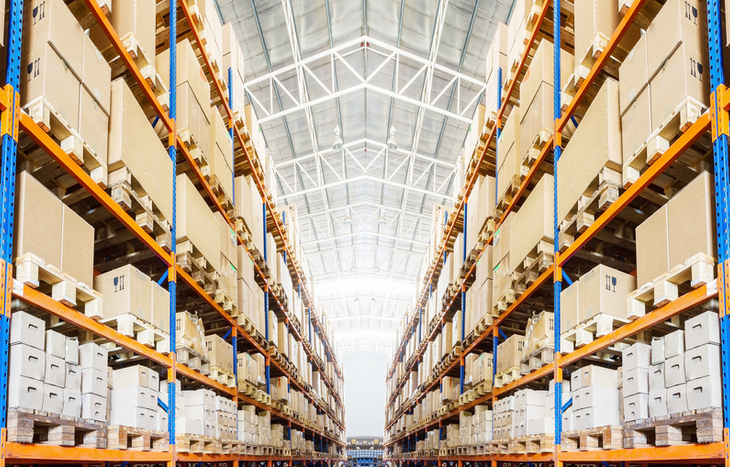 The State of Commercial Real Estate
In commercial real estate, there are four main categories. These categories are office space, industrial, multi-family rentals and retail. Industrial real estate is what we are going to focus on in this article. The COVID-19 pandemic impacted all of these categories in very different ways. However, CBRE, the largest commercial real estate company in the United States, has a few predictions for 2022.
According to CBRE, the industrial sector has been doing incredibly well since the pandemic. This is because COVID-19 created a massive need for eCommerce. People weren't allowed to leave the house so they needed to buy things online. Companies like Amazon needed a lot more warehouses to meet the growing demand. This made industrial real estate incredibly valuable. CBRE states that third-party logistics operators are beginning to dominate the sector.
Additionally, COVID-19 has created a wide range of supply chain issues. Just about every single company had challenges with its supply chain in 2021. Due to this, many companies are rethinking how they manage their supply chains. This will also likely lead to an increased need for industrial real estate.
Warehouse Stocks to Buy
The future certainly looks bright for warehouse stocks. With that said, let's take a look at four of the best warehouse stocks to buy.
NOTE: I'm not a financial advisor and am just offering my own research and commentary. Please do your own due diligence before making any investment decisions.
Prologis (NYSE: PLD)
Prologis is a real estate investment trust (REIT). A REIT is a company that owns and operates real estate. It then earns a profit from leasing its buildings. In total, Prologis owns 4,675 buildings. This equates to 994 million square feet around the world. When finding tenants to lease to, it focuses on two main categories: business-to-business and retail/online fulfillment. It also leases to some of the world's top logistics companies. This includes Amazon, FedEx and UPS.
One thing to note is that, in Q3 2021, Prologis' occupancy rate was 96.6%. This is unprecedented in the industry. It means that 96.6% of Prologis' buildings were rented out. CEO Hamid R. Moghadam stated that "space in our market is effectively sold out." Due to this, CFO Thomas Ollinger believes that Prologis' earnings potential is unrivaled. He also believes that the positive outcome of this occupancy rate won't even be noticeable for 18+ months.
In 2020, Prologis posted a record year. It reported $4.74 billion in revenue as well as a net income of $1.48 billion. More recently, in Q3 2021, it posted revenue of $1.27 billion and a net income of $723.54 million. Despite its success in 2020, these Q3 2021 numbers were up 10.21% and 139% respectively.
Prologis stock was up approximately 60% in 2021. It is also up 193% over the past five years. On top of this strong performance, Prologis is also a good candidate for dividend investors. Right now, Prologis pays a dividend of 1.65%. It has a history of increasing this dividend over time. Since 2018, Prologis has a dividend CAGR of 10%. This beats the industry standard by 2%.
FedEx Corporation (NYSE: FDX)
FedEx is one of the world's largest logistics and transportation companies. According to Transport Topics, FedEx owned 110 warehouses in 2020. This equates to 30.7 million square feet of warehouse space. It also makes FedEx one of the top warehouse stocks to buy.
In FY Q3 2021, FedEx reported $23.47 billion in revenue as well as $1.04 billion in net income. This revenue was an increase of 14% year-over-year (YOY) while net income was down 14%. During the most recent earnings report, FedEx CEO, Frederick Smith highlighted the company's resiliency. In Q3 2021, FedEx had to overcome a challenging labor market, higher transportation costs, and higher wages. Since FedEx has 477,000 employees, these are not small expenses. Despite this, there was only a mild decrease in net income from Q2.
If you are looking for a safe company to invest money with then FedEx is a great option. It's also a good candidate for dividend investors. It currently has a dividend yield of 1.14%.
FedEx stock was up 7% in 2021 and is up 41% over the past five years.
Ryder Systems Inc (NYSE: R)
Ryder Systems is one of the world's leading logistics and transportation companies. According to Transport Topics, Ryder had 328 warehouses in 2020. This equates to 56.4 million square feet of warehouse space. Ryder also boats a fleet of 235,000 commercial vehicles.
As I stated, eCommerce has been a growing trend in commercial real estate for years. However, it was greatly accelerated due to the COVID-19 pandemic. Ryder is doing its best to capitalize on this trend by making strategic acquisitions. Most recently, it acquired Whiplash, a provider of omnichannel fulfillment and logistics services. This acquisition will help Ryder expand its e-fulfillment network. By acquiring Whiplash, Ryder improved its technology and absorbed a new portfolio of clients. In total, Whiplash had 250 clients and 19 warehouses.
Ryder also recently purchased Midwest Warehouse & Distribution System. This acquisition adds an additional 17 warehouses to Ryder's arsenal. With these two acquisitions, Ryder is now capable of delivering anywhere in the U.S. within two days. It can deliver to 60% of the U.S. within one day.
In Q3 2021, Ryder reported revenue of $2.46 billion and a net income of $138.05 million. It also currently pays a dividend of 2.97%.
Ryder System's stock was up 16% in 2021 and is up 1.35% over the past five years.
Warehouse Stock ETFs
When it comes to finding warehouse stocks, it's a little difficult to narrow them down. For example, there are logistics companies like FedEx and UPS that own warehouses. There are also commercial real estate companies whose entire business is owning warehouses. Last, there are companies like Amazon. Amazon is an eCommerce company but it is also one of the biggest owners of warehouses in the United States.
Due to the number of different types of warehouse stocks, it might be a good idea to consider an exchange-traded fund (ETF). It's fairly easy to find different types of real estate ETFs. This helps you diversify your portfolio because an industrial real estate ETF owns lots of different warehouse stocks. There are a few different ETFs that you can choose from. However, one good place to start is with the Pacer Benchmark Industrial Real Estate ETF.
I hope that you've found this article valuable when it comes to finding the safest warehouse stocks to store your money. As usual, please base all investment decisions on your own due diligence and risk tolerance.
---