Crypto
Cronos Crypto: CRO Has Taken a Nosedive but Will It Recover?
The Cronos crypto token CRO (formerly known as Crypto.com Coin) has taken a nosedive this week. Unfortunately for long-term holders of CRO, some big announcements came from the folks who run Crypto.com. And those announcements acted like a cinderblock tied to the price of the Cronos crypto token.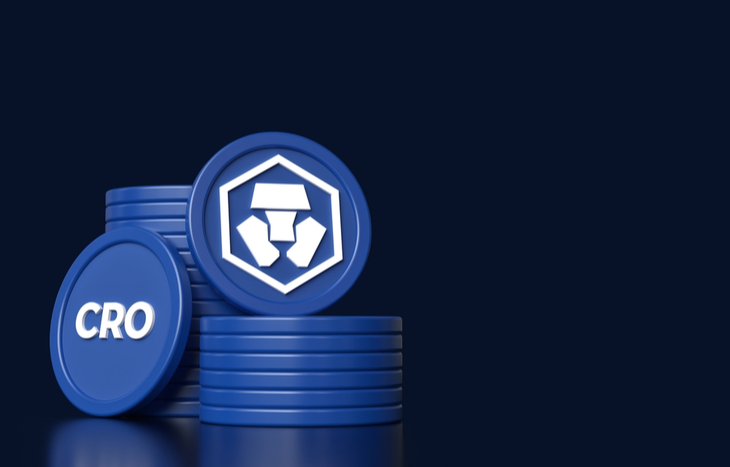 To be fair, Cronos was already backsliding price-wise before the announcement. But now it's down roughly 40% since the beginning of April. So what caused this big drop? It was essentially some big cuts to the incentive programs that came with Cronos crypto.
When we first wrote about CRO last year, we were bullish on it. Crypto.com had just purchased the naming right to the arena the Los Angeles Lakers play at. Matt Damon was all over TV in commercials for the exchange. And CRO was in the midst of a very bullish chart pattern.
There was a lot to like about CRO at the time. Users could earn annual interest of up to 10-12% on their CRO crypto by staking them on either the Crypto.com exchange app or Crypto.com's metal Visa Card.
But a lot has happened since we last covered this token…
Why Cronos Crypto Is Falling
Crypto.com set out with a focus on two things. The Crypto.com blockchain was developed to help speed up global adoption of crypto investing. The other was to safeguarding user data and privacy. But the jury's still out on whether it's helped accomplish either of these.
This past January, crypto.com admitted it was hacked to the tune of $35 million. Furthermore, it still has yet to crack the top-10 list of most popular exchanges. And it only accounts for a market share of 1.69% of crypto trading volume at last check.
None of that is doing any favors for the price of Cronos crypto. But the real dagger came from the announcement that staking rewards would be slashed. An announcement was made that as of June 1, CRO staking rewards would no longer be offered to some holders.
On top of this, a press release was sent out stating:
Cardholders with an active 6-month stake and who staked before 1 May 2022 13:00 UTC will continue to earn CRO Card rewards on spending at the current rate until their 180-day stake expires. Thereafter, the revised rates will apply.
The reasoning behind the changes was that was being done in an effort to maintain the long-term sustainability of Cronos crypto. But that didn't breed much confidence. This is akin to a stock cutting its dividend. Or a bond being downgraded. Dialing back these benefits is a surefire way to make the bulls turn bearish. And that's just what happened.
Is the End Near for CRO?
When we first got wind of the crypto.com press release, we thought thus could be the death knell for Cronos crypto. Sure the discounts received from using it on its native exchange were nice, but would that really be enough to sustain it? That was questionable at best.
We were also starting to suspect shelling out $700 million for the naming rights of a basketball arena might not have been the best idea. Same goes for that $100 million in marketing spends. It really was starting to feel like the dot-com bubble all over again. So is Crypto.com on a similar trajectory as the ill-fated Pets.com? Maybe… But thanks to all the uproar, it's fate isn't sealed quite yet.
Twitter and Reddit feeds reached a fever pitch about the curtailing of the Cronos crypto staking program. And a large selloff naturally followed. Then Crypto.com CEO Kris Marszalek took to social media to try and salvage the situation.
We've been engaging with the community all week about card rewards, and we're making a few more updates based on your feedback.

The process has been far from ideal, but it's important to take your feedback into account, and deliver an attractive yet balanced offering.

— Kris | Crypto.com (@kris) May 5, 2022
All that backlash apparently worked to some extent. The exchange has since backtracked on its decision to fully end the staking rewards program. And Marszalek has since announced that staking rewards up to 8% will be offered to its credit card users. Whether that's enough to save the day has yet to be seen.
Lots of Cronos crypto stakers are still less than pleased with the decision. Afterall, it's not as beneficial as the old program. But it is obviously more sustainable. But for how long remains the million-dollar question.
The Bottom Line on Cronos Crypto
 Is Cronos crypto selling at a discount? Or is poised for even more dips? For the time being, we're changing our bullish sentiment. That being said, we noted last year that the CRO benefits program was very aggressive. It seemed almost too good to be true. And apparently, we were on to something there.
For the time being, Cronos crypto doesn't appear to be a very sound investment. Like we noted above, a company cutting its dividend sends a very bearish message. And a crypto having its staking program removed does the same. Even though some semblance of that program was reinstated, the flip-flopping from management doesn't instill much confidence either. So we're going to sit back and wait to see what this token does in the coming months before being able to recommend it as a worthwhile investment.
---