Proper spotting of a death cross stock can save you lots of money. As soon as you see a death cross on a stock chart, watch it closely. Sometimes it will come back up. And sometimes it will come back up and dip even lower.
It's important to know how to read this "vital sign." You don't want to get in on a stock that will likely end up failing.
And even if it doesn't die, it's likely to cost investors a lot of capital.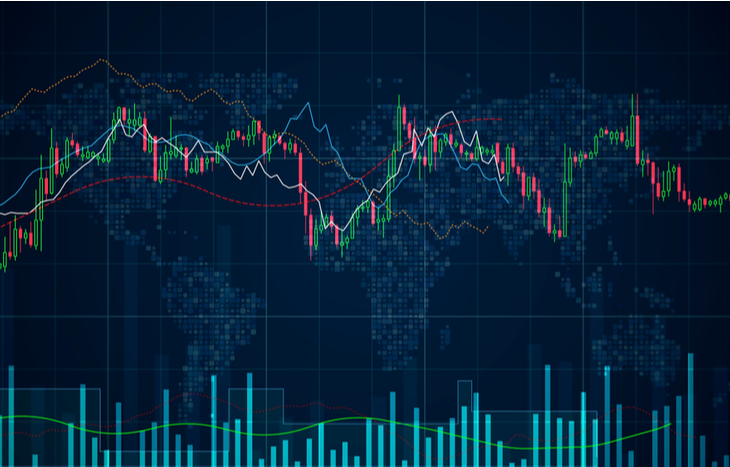 Death Cross Stocks Today
Amtech Systems, Inc. (Nasdaq: ASYS)
Atlantica Sustainable Infrastructure PLC (Nasdaq: AY)
Arrow Financial Corporation (Nasdaq: AROW)
Cogent Communications Holdings Inc. (Nasdaq: CCOI)
Array Technologies Inc. (Nasdaq: ARRY)
Certara Inc. (Nasdaq: CERT)
eBay Inc. (Nasdaq: EBAY)
What Are Death Cross Stocks?
A stock is not born a death cross stock. It becomes one when short-term average price moves below long-term average price. And usually, those two averages are 50-day and 200-day.
So, the 50-day average moves below the 200-day average. When it does this, it creates a cross shape or an "X." That "X" is the death cross.
It's a sign of a large bear run. And these have been used with other signals to predict huge downturns in the market.
It is not always correct in predicting the company's demise. But, many times, it is a good indicator that the company will have a large sell-off soon. In other words, quite possibly the death of a company.
There is also something called a golden cross. That is just the opposite. It's when the 50-day average price moves above the 200-day average. And, it indicates a large bull run.
Why Would You Want to Know About Death Cross Stocks?
Death cross stocks can keep you out of trouble. If you've invested in a stock, you want to keep an eye on it. Especially if it's a penny stock.
Then, if you see that death cross form, it can save you a lot of cash. If you get out before the market or stock crashes, that's always a good thing.
It's also handy to know about these death crosses so you can find them in your due diligence. Before you decide to invest in these companies. And ideally, so you can avoid them altogether.
How to Find a Death Cross Stock
One way to find which companies are death cross stocks is to do regular searches. Often, education websites like this one will turn up results for recent death cross stocks.
Another way you can check is by going to a site that shows the stock charts along with their averages. Remember, you're looking for the 50-day average and the 200-day average.
Some people also use the 30-day and 100-day averages together.
It's up to you. But, if you're going for longer term predictions, it's best to use longer averages.
Or, you may feel you want to get out as soon as possible. And before you lose any of your earnings. You can also use the shorter-term, "30-day, 100-day" average pair.
Some websites that show these averages are Thinkorswim and other trading platforms. Also, some sites that carry charts for stocks will show these averages.
Death Cross Stocks
Here's a little bit about each of the companies outlined above.
Amtech Systems, Inc.
Amtech has been on an up and down roller coaster ride since listing on the stock market in 1983. So, I imagine it's gone through quite a few death crosses. Despite this death cross stock's status, profit and revenues are doing well.
But, don't let that be your investment's demise. Do more due diligence on this stock.
Atlantica Sustainable Infrastructure PLC
This death cross stock has a nice dividend yield of over 5%. But, as I've warned in previous posts, that can be a bad sign. Sometimes, a high dividend is meant to attract investors. They may need the money to keep the company going. It can be hard to tell unless you do some digging.
Arrow Financial Corporation
This death cross stock is a financial organization based out of New York. The company seems to be doing well. This is a great example of a stock that could look promising. But, if you were an investor doing due diligence, you'd find the death cross. And if you didn't do your homework, who knows what would happen with your investment.
Cogent Communications Holdings Inc.
Cogent is an internet provider that services many countries. It also has a dividend of over 5%. The company focuses on fiber-optics. It services small businesses, to midsize, to enterprises.
It seems they were still participating in conferences late last year. So, that's a good sign. But, it may not be enough.
Array Technologies Inc.
Array produces and provides solar technologies and arrays all over the globe. Recently, Array has retired and rehired for their CEO position. The former CEO retired, and someone new took his place.
This could be a reason the stock is falling. Maybe there was not a smooth enough transition. Or maybe the new CEO doesn't have the skills to keep up. It also could be just as simple as lack of faith in the company only because the management has changed.
In that case, it could be that insiders hold a large portion of the company and are selling stock.
Certara Inc.
Certara is a death cross stock that aims to bring medicines to those who need them. They use bio simulation software to get those medicines to patients. And they have many clients that include agencies and biopharma companies all over the world.
eBay Inc.
eBay is not a stock I expected to be on the death cross list. It has a long history of being the "go-to" for used items online and across the globe. Recently, it's tried mirroring Amazon's structure. And it's been trying to support more unused items.
Profit margins are down drastically for eBay, though. And revenue is not up by much. Stock has been on a downward correction for a few months. It would be a shame if this death cross stock were to go out of business.
It seems unlikely for eBay, given its long history. But, it's possible.
---