If you're an investor who doesn't mind risk, energy penny stocks might be worth considering. Their potential returns are huge.
Last year was a low point for the energy sector. But the market is looking up as COVID-19 vaccines roll out. People are looking forward to traveling, and that will increase energy demand. Below you'll find a list of energy penny stocks that offer high risk-to-reward opportunities.
Also, if you want to see how your investments can grow, check out our investment calculator. It's a free tool that can help you plan and reach your financial goals.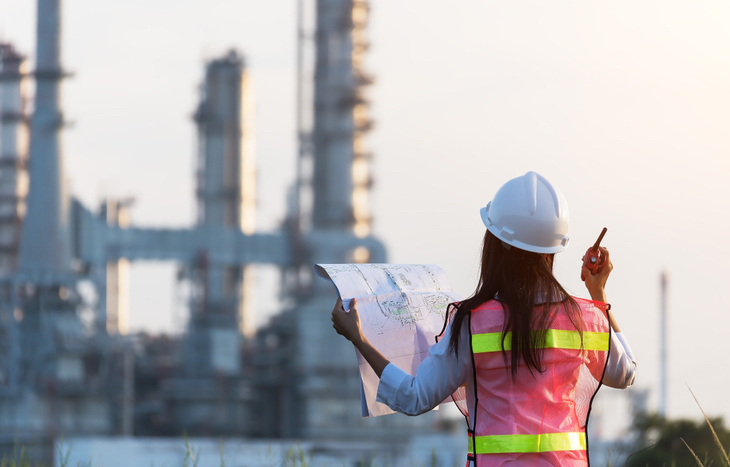 Five Energy Penny Stocks to Consider
Southwestern Energy Company (NYSE: SWN)
American Resources Corp. (Nasdaq: AREC)
Denison Mines Corp. (NYSE: DNN)
Ur-Energy Inc. (NYSE: URG)
Uranium Energy Corp. (NYSE: UEC)
We'll look at these companies in more detail below. But first, I'm going to show you why both energy stocks and penny stocks can be great investments. And combining the two can maximize your returns.
Why Invest in Energy Penny Stocks?
Energy stocks are undervalued. Our own Matthew Makowksi recently highlighted the sector's recent potential…
Despite record-setting highs, there are still undervalued energy stocks out there.

In fact, some entire sectors are trading at a discount. Despite finishing 2020 with a strong fourth quarter, the energy sector still finished the year in the red. And it makes perfect sense. With fewer people driving to work due to the pandemic, fuel consumption was down. Holiday travel was way down too. An estimated 34 million fewer people hit the highways and airways last holiday season.

But with vaccines getting stuck into arms across the country, this sector won't be underperforming for long. In fact, there's reason to believe it will bounce back and then some. People have been cooped up too long. They've had a lot of time to plan and save for big trips. School buses will soon return to the road. Offices (some more than others) will slowly begin to fill up again. That means those big energy-sucking buildings will start being used again.
Penny stocks have a low barrier to entry. For a few dollars you can buy a stake in many companies. This makes them a perfect starting point for investors who can't afford blue chip stocks.
It's also important to understand penny stocks are more volatile. They have larger price swings and this can lead to larger losses or gains. That's why it's vital to find the stocks with the best risk-to-reward opportunities…
Energy Penny Stock Highlights
Southwestern Energy Company is an energy company in the United States. The company engages in natural gas and crude oil exploration, development and production. Its operating segments are exploration, production and marketing.
SWN develops unconventional natural gas reservoirs in Pennsylvania and West Virginia. It also engages in marketing of natural gas, oil and NGLs. The company serves other energy companies, utilities and industrial buyers. In recent months, SWN announced the acquisition of Montage Resources.
Southwestern has four main principles… creating sustainable value, protecting financial strength, increasing scale and progressing best-in-class execution. These pillars make the company an interesting energy penny stock to watch right now.
American Resources Corp. is a supplier of resources such as coal. And it strives to deliver its products in a socially responsible way. The company supplies metallurgical coal as well as pulverized coal to the global infrastructure market.
In a recent update, American Resources reported the McCoy Elkhorn complex could produce 350,000 – 500,000 of metallurgical carbon for steel-making markets once online. The company plans to begin operations during Q2-Q3 and this makes it one of the top energy penny stocks to consider.
Denison Mines Corp. is a uranium exploration and development company. And its primary resources are in the northern Saskatchewan region of Canada.
The company has a large portfolio of uranium mining properties. This includes a 22.5% stake in the McClean Lake joint venture. The venture holds several uranium deposits and the McClean Lake uranium mill, which processes ore from the Cigar Lake mine. The company also has a 25.17% interest in the Midwest deposits and a 66.9% interest in the THT and Huskie deposits.
The company is well positioned to support the clean-energy transition. Its Wheeler River uranium project has the potential to compete with the lowest cost uranium mines and development projects. Wheeler River is designed as one of the most environmentally sustainable mining operations in the world.
Ur-Energy Inc. is an exploration stage mining company. It engages in uranium mining, recovery and processing activities. This includes the acquisition, exploration and development of uranium mineral properties in the United States.
Ur-Energy's Lost Creek facility has produced and shipped more than 2.6 million pounds of uranium ore. The company is making efforts to begin working at its LC East project and the Shirley Basin project.
The uranium energy industry's potential is mostly untapped right now. Uranium is one of the most efficient ways of producing power but it doesn't have the best public image. If that changes, this alternative energy penny stock could skyrocket.
Uranium Energy Corp. is a U.S. based uranium mining and exploration company. It manages one of the largest databases of historic uranium exploration and development in the country. The company is using this knowledge base to acquire and explore properties throughout the southwestern U.S.
The company has properties primarily in Texas, Wyoming, New Mexico, Arizona and Colorado. This region has been one of the best areas to mine uranium in the country.
The EVP of UEC, Scott Melbye, stated that "nuclear power can work hand in hand with other green technologies, like wind and solar, to help advance the American clean energy revolution." The company's environmentally friendly strategy gives this stock a lot of potential.
Final Thoughts
If you're interested in investing in energy penny stocks, you're going to need to have some risk tolerance. These stocks carry potential for big returns, but also for big losses.
If you want to minimize risk, consider diversifying your portfolio. By investing in several energy penny stocks, you can reduce portfolio swings. Check out these renewable energy ETFs to reduce some of the volatility.
The energy sector is one of the top performers in the S&P 500 this year. These are just a handful of energy penny stocks to watch. And if you want insight from energy investing experts, consider signing up for Profit Trends. It's a free e-letter that's packed with investing opportunities.
---
Aimee Bohn graduated from the College of Business and Economics at Towson University. Her background in marketing research helps her uncover valuable trends. Researching IPOs and other trends has been her primary focus over the past year. When Aimee isn't writing for Investment U, you can usually find her doing graphic design or traveling with friends.