When many people think of graphite, the first thing that comes to mind is pencils. While this is a major use of graphite, this commodity also plays a key role in emerging technologies. So it might not be a bad idea to add a few graphite stocks to your portfolio.
Graphite use is expected to pick up in the coming years thanks to electric vehicles (EVs). It's used in lithium batteries and as the EV trend continues, these graphite stocks should climb higher. Let's take a look at a few of the best graphite investing opportunities…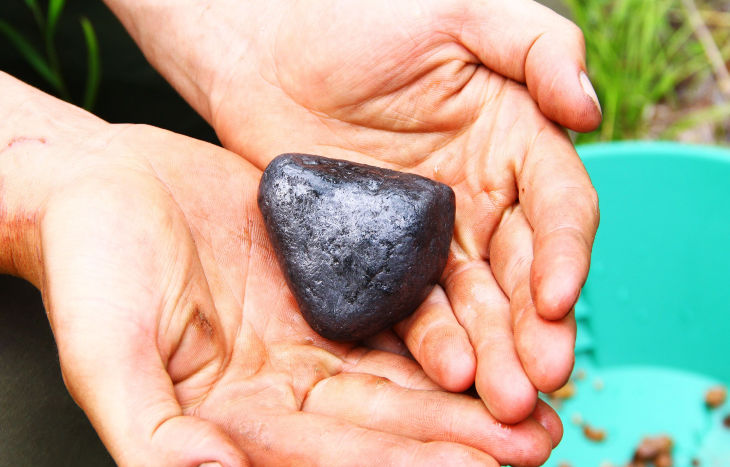 Best Graphite Stocks to Buy
In 2021, there was no natural graphite produced in the United States. However, the U.S. imported more than 53,000 tons.
Graphite demand has climbed thanks to EV batteries, but we use it in many other areas as well. These include brake linings, refractory applications, steelmaking, lubricants and more.
And just as there are many uses for graphite, there are also many companies to consider. Some of the best graphite stocks include:
Nouveau Monde Graphite (NYSE: NMG)
NextSource Materials (OTC: NRCSF)
Syrah Resources (OTC: SYAAF)
Magnis Energy Technology (OTC: MNSEF)
Most of these companies trade over-the-counter (OTC). And this comes with its own set of risks. However, they're internationally-based and also trade on major foreign exchanges.
Nouveau Monde Graphite
First up on the list of the top graphite stocks is the only one that trades on a major US exchange, Nouveau Monde Graphite. This Canadian company was founded in 2011. And it aims to "produce the greatest advanced graphite materials with a carbon neutral footprint for a sustainable world."
Its main project is the Matawinie mine located in Saint-Michel-des-Saints, Québec. It owns 100% of this project. According to a feasibility study, the mine has projected graphite concentrate production levels of 52,000 tons per year for nearly 30 years. Nouveau Monde aims for this to eventually be a fully electric graphite mine.
To keep up with the continuing EV demand, it's also working towards vertical integration. This would allow it to deliver anode battery materials directly to the market. Its proposed plant in Bécancour is not up and running yet, but if plans keep going ahead this could be a top graphite stock to watch.
NextSource Materials
The next graphite stock to buy is another Canada-based company, NextSource Materials. It's a supplier of battery and technology materials. It's also working on facilities to produce graphite used in the manufacturing of battery anodes for EVs.
But NextSource Materials isn't just using graphite in its manufacturing, it also mines and processes flake graphite. It owns two mines, the Green Giant Vanadium Project and the Molo Graphite Project.
The Molo Graphite Project is one the highest quality and largest-known flake graphite deposits in the world. It's located in Madagascar and is estimated to contain more than 140 million tons of graphite. In 2021, a study began for an expanded Phase 2 capacity of at least 150,000 tons per year. If NextSource Materials can deliver at that level, it should reward shareholders as one of the best graphite stocks on the market.
Syrah Resources
Syrah Resources is an Australia-based company. It operates the Balama mine in Mozambique. And this mine has a life expectancy of more than 50 years. The company expects monthly output to be more than 15,000 tons of graphite. Balama could become a major supplier as lockdowns in China are forcing companies to look elsewhere for their supply.
It wants to be the first major integrated producer of graphite for anode materials that isn't based in China. Instead, it chose to open a factory in Vidalia, Louisiana to produce lithium battery anodes.
This company already has agreements with some major car manufacturers. Syrah Resources has an agreement with Mitsubishi to help development of battery materials for its EVs. It also has a deal with Tesla (Nasdaq: TSLA) to provide natural graphite active anode material. With two deals from prominent car companies, Syrah Resources could be a top graphite stock to buy for the years to come.
Magnis Energy Technology
The last graphite stock on this list is Magnis Energy Technology, which is another Australian company. It owns 100% interest in the Nachu graphite project in Tanzania under its subsidiary, Uranex Tanzania.
It has a unique graphite processing method that lets it be more environmentally responsible as well as price competitive. And it doesn't rely on the Chinese supply chain, which has recently been inconsistent with lockdowns.
Another of Magnis Energy Technology's subsidiaries, Imperium3, has two lithium-ion battery plants. One is in New York, and it aims to scale up to 38 GWh by 2030, which would make it the only non-China supply chain capable of meeting global demand. The other is in Australia, and it's still being developed. The company will provide anode materials for these batteries. If it's able to scale up successfully, it could become one of the best graphite companies with exposure to both the mining and battery production sides.
Other Graphite Investing Opportunities to Consider
If you don't want to invest in just one company, but still want exposure to the graphite industry, the Global X Disruptive Metals ETF (DMAT) is a good option to consider. This focuses on companies producing raw materials that go into disruptive technologies. This, of course, includes lithium batteries and therefore graphite.
DMAT has just under 50 holdings across a wide variety of sectors and countries. It currently holds around $3.8 million in net assets. And has an expense ratio of 0.59%. This is a great option for those who want wider exposure to commodities, but still want exposure to graphite stocks.
The Bottom Line on Graphite Stocks
As EVs continue to use lithium-ion batteries, graphite could be a hot commodity for years to come. But these graphite stocks are a bet on the future. So, as always, it's important to do your due diligence before making any investment decisions.
---