In this M1 Finance review, we'll be going over the low-cost investment app that combines automated investing with customized stock portfolios. It achieves this with its easy-to-manage portfolio and pie-investing features. As a result, it's an ideal investing platform for seasoned investors. So, let's jump into the review.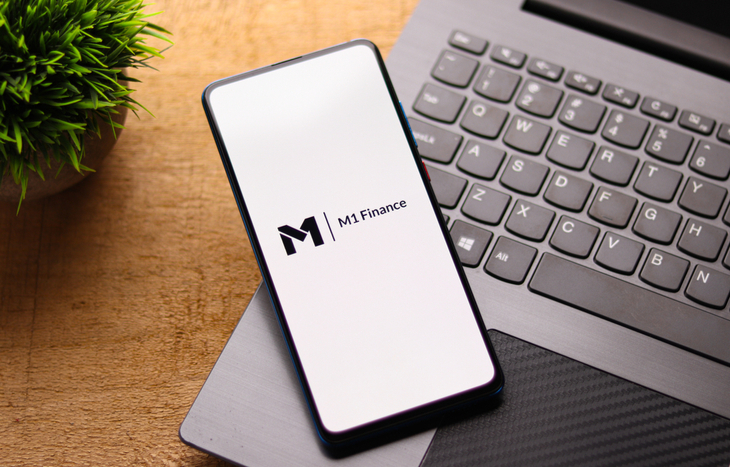 M1 Finance: About the Platform
Any investor can invest in stocks with M1 Finance. If you are comfortable with the world of investing, this platform may be just what you're looking for. However, M1 Finance may not be the best option if you're a beginner to the investing space. This is due to the lack of human consultants on the platform.
However, you should know that this platform isn't an investment advisor. Instead, M1 Finance allows you to build fully customized portfolios of stocks and other securities. In addition, it allows you to automate your investment strategies with more than 60 pre-built pie portfolio charts.
Whether you have a large sum of money to invest upfront or if you are just starting to save, there is always a way to invest. No matter what you're looking for, M1 Finance offers something for you with its portfolio management tools.
M1's CEO, Brian Barnes, felt there was a lack of financial innovation within the financial services industry. From there, M1 Finance was born to stand apart from the competition. Moreover, this company sets itself apart with its pre-built portfolios, or "pies."
M1 Finance Review: The Pie Platform
A key element of M1's investing platform is its investment portfolio templates, called pies. The pies are based on Modern Portfolio Theory (MPT).
M1 Finance's pies allow investors to reduce the amount of time they spend on portfolio management without sacrificing portfolio flexibility, investment options or automation features.
Moreover, investors can choose from expert or custom pies. Expert pies are professionally designed, letting you choose which aligns with your risk tolerance or industries that you prefer. Otherwise, you can build a custom pie that fits your unique financial goals.
Pies are the foundation for investing with M1, as stated above. You will receive a suggested pie with pre-selected investment categories during the signup process.  A standout feature of these pies in our M1 Finance review is their customization capabilities. As many as 100 pie slices make up each pie. Moreover, each slice represents a different holding – whether it's a stock, an ETF or even an expert pie.
Expert Pie Categories
Investors can choose expert pies from the following categories…
General Investing — a diversified portfolio based on your personal risk tolerance
Plan for Retirement — invest for your target retirement date with a portfolio that adjusts to your goals as you age
Responsible Investing — sound financial options for the socially responsible investor
Income Earners — builds a portfolio based on dividends and income returns
Hedge Fund Followers — mimics investment strategies of some of the most successful investors and reputable hedge funds
Just Stocks and Bonds — builds a diversified portfolio with two ETFs, focused on stocks and bonds
Other Strategies — additional investment strategies to help you find what works best for you
Furthermore, variations are available for each of these general pie categories. For example, investors have nine variations in the Just Stocks and Bonds pie chart. This can range from 10% stocks and 90% bonds to 20% stocks and 80% bonds, up to 90% stocks and 10% bonds.
M1 Finance Review: Getting Started
As you go through the setup process, no deposit is required. However, you must deposit at least $100 to start investing. The most common choice is a taxable investment account, but you can also set up a retirement account. The initial deposit for a retirement account is $500.
The setup process will prompt you to link your bank account through Plaid. In addition to the list of common banks, you can search for your bank if you don't see it. Additionally, you can enter your routing and account numbers manually to add your bank.
M1 Finance offers new members a sign-up bonus of up to $500. Moreover, you will receive $30 free just for joining if you deposit $1,000 or more. Additionally, the company's fees, or lack thereof, set it apart.
M1 Finance Fees
A highlight of this M1 Finance review is highlighting the company's low-cost features. The company's overall low cost sets it apart from other platforms.
M1 Invest offers free basic accounts. Monthly management or trading fees are not charged, there is no minimum balance requirement and no monthly fees apply. As a result, M1 is an excellent platform for low-cost investing if you have a retirement or taxable account.
However, the company is still a business, after all. M1 Finance offers a premium service called M1 Plus for $125 a year. It offers exclusive features and rewards that help investors earn more, access more and receive more perks and discounts.
In addition to its premium features, M1 offers borrow and spend services. With M1 Borrow, investors can access a portfolio line of credit and borrow up to 40% of their portfolio's value with rates as low as 2.75%. Furthermore, M1 Spend gives investors digital banking perks and a credit card to help fuel their investing strategy.
It makes money by charging fees on its other services, M1 Spend and M1 Borrow. M1 Borrow's portfolio line of credit comes with a fee of 3.5% for basic members. However, it's much lower for M1 Plus members at 2%.
M1 Finance Review at a Glance
Account Minimum

$100 for taxable accounts
$500 for retirement accounts

Management Fees

$0 for a basic account
$125 annual fee for M1 Plus

Expense Ratios

Expense ratios for ETFs average 0.06% to 0.20%

Account Fees
Available Assets
Account Types

Individual and joint brokerage accounts
Traditional, Roth, and SEP IRAs
Trust accounts
Checking account
Line of credit

Customer Support

Phone and email support during business hours
Automated chat tool available 24/7

Human Advisors

Does not offer human advisors

Dividends

Once dividend income reaches $10, it will be reinvested in your portfolio

Tax Reporting

Integration with TurboTax and H&R Block is direct in M1

Free Consultation

Contact a product specialist for a free consultation to learn more about the platform and how it can benefit you

Stocks and ETFs
Account Protection
Now that we've looked at the M1 Finance Review at a glance, let's dive into the pros and cons of the platform.
M1 Finance Review: Pros and Cons
Pros
M1 does not charge brokerage fees, monthly fees, management fees or commissions.
M1 applies automated portfolio management based on your choices.
Each pie has no transaction fees associated with buying and selling securities.
By maintaining fractional shares, M1 invests your money fully.
Cons
M1 is not intended for active traders like day traders.
There is no tax-loss harvesting available.
Only stocks, ETFs and REITs are available.
Now, let's sum up this M1 Finance review by looking at the final thoughts.
M1 Finance Reviews: The Bottom Line
There is always new competition coming to light in the investing space. Moreover, automated investment platforms, such as M1, have recently become more popular. Buy and hold investors preferring to select their own investments will benefit from M1. Moreover, you can have control over your investments, without dealing with the day-to-day management of the portfolio.
M1 Finance is a disruptive force in the investing space. In addition, the platform is likely to keep growing. However, as the platform becomes more widely adopted, it would be beneficial for M1 to allow investments in mutual funds, and offer tax-loss harvesting and retirement planning tools. All-in-all, M1 Finance is an excellent automated investing platform to help you reach retirement.
If you're interested in other investment platforms, check out the best online brokers of 2022.
---