Crypto
Amazon to Accept Crypto as Payment? Not So Quick
News that Amazon might accept crypto as payment boosted the markets and sent values upwards. The speculation started after it was revealed that the e-commerce giant was looking to hire a digital currency expert. Amazon posted the job listing on its own website.
In the listing, Amazon stated it was looking for someone to develop a digital currency strategy. One that would "work backwards from customer and partner needs." There was also a special emphasis that the new hire would need to work on new features and "architectural improvements."  So, it's really not surprising that people jumped to conclusions.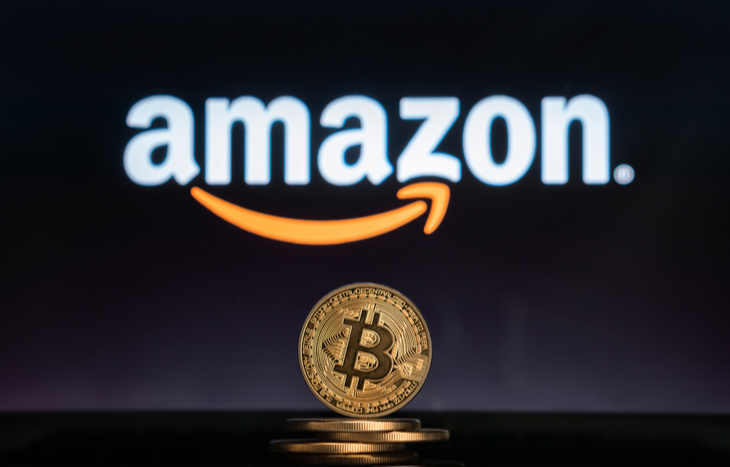 The speculation sent Bitcoin surging above $40,000 for the first time in more than a month. In fact, just about the entire cryptocurrency market saw a sizable surge in value. It served as welcoming good news after a wave of bad news that sent crypto markets crashing. And that good news was only bolstered when an Amazon spokesperson was quoted as saying:
We're inspired by the innovation happening in the cryptocurrency space and are exploring what this could look like on Amazon.

We believe the future will be built on new technologies that enable modern, fast, and inexpensive payments, and hope to bring that future to Amazon customers as soon as possible.
Things got even more serious after the London-based CityAm ran a report saying that the plans for Amazon to accept crypto as payment by the end of the year.
But that future doesn't appear to be as soon as reported. We can't always trust unnamed sources as it turns out…
A Halt in the Plans for Amazon to Accept Crypto
It was another example of just how reactionary the crypto markets can be. As crypto expert Andy Snyder has explained again and again, crypto is the very definition of a headline-driven market. Reactionary investors poured money into Bitcoin on the rumors of Amazon accepting crypto. And they pulled it back out just as fast when those rumors turned upside down.
But there's just enough nuance in the updated statement to suggest Amazon hasn't soured on the idea. An Amazon spokesperson told Reuters, "Notwithstanding our interest in the space, the speculation that has ensued around our specific plans for cryptocurrencies is not true." That spokesperson went on to explain, "We remain focused on exploring what this could look like for customers shopping on Amazon."
So that's a hard… maybe. That being said, it doesn't appear that the plans for Amazon to accept crypto will be happening as soon as previously reported. But there's still plenty of momentum in the retail sector to suggest Amazon will eventually follow the lead of others.
Microsoft (Nasdaq: MSFT) and PayPal (Nasdaq: PYPL) have been accepting Bitcoin as payment since 2014. In fact, Overstock (Nasdaq: OSTK) beat both of them to the punch earlier that year. Overstock's early adoption of blockchain technology caused some analysts to describe the retail outfit as "basically a crypto company now."
While that last part is a little hyperbolic, it does speak to the gradual nature of crypto adoption. And why it's safe to say that eventually, Amazon is likely to begin accepting crypto as a form of payment. In fact, one of Amazon's biggest subsidiaries, Whole Foods has been accepting Bitcoin as payment for years. So, this might not mark the beginning of Amazon accepting crypto… But it certainly isn't the end either.
Crypto's Already Gone Mainstream
With or without Amazon, crypto isn't going away. Heck, even Bitcoin waffler Elon Musk has said that his electric vehicle company will most likely begin accepting payment for Teslas pretty soon again.
With that though, it looks like Amazon will be waiting this one out for a little while longer. While it's still possible for Amazon to accept crypto by the end of the year… It seems a lot less likely now that the dust has settled. But institutional money has already started pouring in. Crypto hedge funds are popping up left and right. And countries are now adopting crypto as legal tender. Others still are developing their own digital currencies. The digital Yuan is of course the one with the most widespread adoption to date. And Fed Chairman Jerome Powell has shown ample support for a central bank digital currency. This despite his disdain for decentralized cryptos.
In the end, it was a welcomed bump in the value of cryptocurrencies, but the plans for Amazon to accept crypto aren't going to be realized just yet. But the longer it waits, the more behind the digital curve it will be when it finally decides to start accepting crypto as payment.
The Bottom Line on the Plans for Amazon to Accept Crypto
It might not be happening as soon as people initially thought. But it's unlikely the plans for Amazon to accept crypto will be completely scrapped. Despite fluctuations in value, adoption of Bitcoin, Ethereum and the other big cryptos is growing every day. Eventually, the pressure for major retailers to accept it as payment will get too big to ignore. And with Bitcoin trading around 40% below its all-time highs, it would make sense for adoption to spread before the crypto markets return to their high-water marks in terms of value.
If you'd like to stay on top of the crypto markets while learning about the tokens that are poised to move the market, we suggest signing up for Manward Financial Digest. In it, founder Andy Snyder (the crypto expert we mentioned above) explores crypto with a keen eye for shifts in volume. This is one of the key metrics that can make a new token break out… or send an old one to its demise. To start reading his analysis, just enter your email address in the box below.
---
Matthew Makowski is a senior research analyst and writer at Investment U. He has been studying and writing about the markets for 20 years. Equally comfortable identifying value stocks as he is discounts in the crypto markets, Matthew began mining Bitcoin in 2011 and has since honed his focus on the cryptocurrency markets as a whole. He is a graduate of Rutgers University and lives in Colorado with his dogs Dorito and Pretzel.