Retirement
Top 10 Best Places to Retire in Arizona in 2022
Arizona is a popular retirement destination for many people. The low maintenance living and low tax rates are two of the key factors that make it a good choice for retirement. However, finding the best places to retire in Arizona can be an overwhelming process. Read on to find the perfect place to retire in The Grand Canyon State.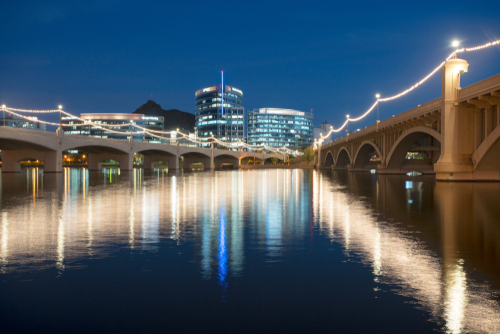 What Makes the Best Places to Retire in Arizona?
Arizona is known to have a lower cost of living than the national average, even in major cities like Phoenix and Tucson. The weather is also a major selling point, with winter months often in the 60s and 70s. This causes many retirees to flock there from colder climates across the country.
Arizona is also near the top of any list when it comes to tax rates and exemptions. The state's property taxes are much lower than the national average, social security isn't taxed and you can also qualify for a deduction with a public pension.
In addition to the above, we also consider factors such as:
Crime rates
Medical centers and healthcare
Entertainment and recreation
Culture and art
10 – Gilbert, Arizona
Gilbert sneaks into our top 10 due to its reasonable cost of living and affordable healthcare options. This suburb is about half an hour from Phoenix, giving you easy access to a big city. It's also right up the road from The Grand Canyon.
Gilbert is full of wineries and a wide range of golf courses. Moreover, the crime rate is much lower than the statewide averages, according to Neighborhood Scout.
9 – Paradise Valley, Arizona
Paradise Valley truly lives up to its name. It's known for luxurious golf courses, breathtaking real estate and epic resorts. Originally a premier tourist destination, Paradise Valley is now also a popular destination for retirees.
According to the U.S. Census Bureau, the town's population stood around 12,000 as of April 2020. It's also home to many celebrities, including singer Alice Cooper and swimming legend Michael Phelps.
8 – Glendale, Arizona
One of Glendale's slogans is "You'll Love Every Moment," and that is true. As one of the larger cities on this list, Glendale has high quality entertainment events, recreational benefits and healthcare options.
From the iconic Arrowhead golf course to the NFL's Arizona Cardinals, there's always something fun to do in Glendale. Moreover, the arts and culture in the area include world-class museums, scenic gardens and many historical areas.
7 – Tempe, Arizona
If you are looking for nature and entertainment, then Tempe is the place for you. As one of the best places to retire in Arizona, this Maricopa County city has Phoenix to its west and Scottsdale to its North.
Tempe is home to Arizona State University, which provides sporting and performing arts events for the public. Outdoor and recreational activities are also available in the area, with the Salt River running through the northern part of town.
6 – Green Valley, Arizona
Green Valley in Pima County is an unincorporated retirement community with over 22,000 residents. It's located near the Santa Rita Mountains, which have plenty of hiking, biking and birding spots.
Green Valley is a quaint area that is best suited for people who are looking to get away and relax in retirement. The town is surrounded by copper mines and is full of history, beautiful scenery and interesting museums. This includes the Titan Missile Museum, which is the last remaining nuclear installation in the United States.
5 – Chandler, Arizona
Chandler is the perfect mix of family communities and cosmopolitan areas. The housing is affordable and the dining and shopping is some of the best in the state.
Chandler is featured as not only one of the best places to live in Arizona, but also in retirement. The outdoor recreation is perfect for anyone with an interest in having an active lifestyle in retirement.
4 – Sun City West, Arizona
Sun City West is a golfer's paradise that is considered one of the best retirement communities in Arizona. As the self-proclaimed "Nation's Premier Active Adult Golf Community," Sun City West has four recreation centers, seven top-notch golf courses and over 100 chartered clubs.
This retirement-specific community is a short drive away from Phoenix, and it's also right up the road from Tonto National Forest. As the largest national forest in Arizona, Tonto is a popular destination for hikers and campers.
3 – Prescott, Arizona
Prescott is a hotbed for parks and trails. It's also known for its historic downtown area, called Whiskey Row.
Whiskey Row has an exciting social scene full of live music venues. Outside of the entertainment value, Prescott is home to many lakes, most notably Watson Lake and Lynx Lake. Both lakes include scenic hiking trails and other recreational activities.
2 – Scottsdale, Arizona
According to the New York Times, Scottsdale is "a desert version of Miami's South Beach" due to its buzzing late-night scene. As a part of the Greater Phoenix area, Scottsdale is a mix of history and modern expansion, making it a great place to retire in Arizona.
Located in the Salt River Valley, Scottsdale is divided into four main areas: Old Town, South, Central and North Scottsdale. This ever-growing city has become a popular landing spot for retirees across the nation.
1 – Mesa, Arizona
Mesa has everything you need in a city for retirement. From lively attractions and entertainment to agritourism and outdoor activities, Mesa takes the top spot on our list.
The third largest city in the state behind Phoenix and Tucson, Mesa has just over half-a-million residents. This city is full of adventure, natural attractions and a downtown area with a growing culture.
The Best Places to Retire in Arizona For Your Family
Arizona might not be the first state you think of when it comes to retirement, but it's worth considering. The tax benefits alone appeal to retirees who are looking for the most bang for their buck. With a growing economy and the cultural background already in place, Arizona could be the perfect landing spot for your retirement journey.
Find the best places to retire in Arizona with the help of our list above. However, if you are interested in expanding your search to other states, visit our lists for the best places to retire in California, Texas, Florida, Georgia, South Carolina and North Carolina.
---
Corey Mann is the Content Manager of Investment U. He has more than 10 years of experience as a journalist and content creator. Since 2012, Corey's work has been featured in major publications such as The Virginian-Pilot, The Washington Post, CNN, MSNBC and more. When Corey isn't focusing on Investment U, he enjoys traveling with his wife, going to Yankees games and spending time with his family.