Retirement
Top 10 Best Places to Retire in Texas in 2022
The Lone Star state is a common choice for people nearing retirement. However, it can be hard to find the best area for your specific needs. You may be looking for the best places to retire in Texas near a major city… or you may be searching for the best tax rates to protect your nest egg and income.
This critical time in your life can prepare you and your family for the future. It's important to visit multiple locations and take your time during the search. The best fit for you will be different than others. That's why I suggest starting by making a list of your personal and financial needs before you begin. It's a great starting point for finding the best place to retire in Texas.
A Breakdown: Best Places to Retire in Texas
Below, you will see a list of the top 10 locations in Texas that are perfect for retirement. This list is a mix of cities that best suit the needs of families, with factors such as..
Proximity to a major city
Entertainment value
Medical accessibility and healthcare options
Recreational value and other amenities
Tax rates and cost of living.
In general, Texas is a tax-friendly state. That's why many people consider making the move. With no individual income taxes or state property taxes, Texas is a popular destination for both workers and retirees.
10 – Hollywood Park, Texas
Hollywood Park is a San Antonio suburb that is on the more expensive side of this list. This town in Bexar County is not only one of the best places to retire in Texas but also one of the best places to live in general.
The public schools and teachers have great ratings, and it offers one of the most family-friendly communities. The city boasts a brand-new community center and has a "unique history and a vibrant future," according to its local website.
9 – Katy, Texas
Katy is one of the best cities to retire in Texas. Per capita, the city boasts the most medical centers in the state. It's also home to the most recreational centers per 1,000 residents. These benefits make it a top living area for people in retirement.
Katy is a half-hour drive west of Houston. This proximity to the big city gives you access to professional sports, arts and other amenities while still living in a small, rural area.
8 – Fredericksburg, Texas
Fredericksburg gives you access to two major cities, Austin and San Antonio. Both cities are about an hour's drive away. It's known as the Peach Capital of Texas, with a booming agricultural tourism base. Moreover, this Central Texas town has the third-lowest tax burdens of the cities in this list.
Overall, Fredericksburg is one of the best places to retire in Texas for those on a budget, but also in general; seeing as 30% of its population are senior citizens.
7 – Livingston, Texas
Livingston is a suburb of Houston that regularly ranks high within the state as a retirement getaway. Its tax burdens are on the low end of this list, and it's home to many recreational centers and medical care facilities.
Livingston is the largest city in Polk County. It's 10 miles east of Lake Livingston, which is the largest drinking water reservoir in the state. The city is also right up the road from Trinity River, which is a great area for boating and fishing.
6 – McAllen, Texas
McAllen sits along the Rio Grande, just 80 miles off the Gulf of Mexico. This area has a reasonable cost of living, an expanding downtown area and a high growth rate. The median home price is only $165,400.
Though McAllen is nearly a four hours' drive from San Antonio, the closest major city. Its residents have more satisfying lifestyles than those in major cities, according to a recent Gallup poll.
5 – Richmond, Texas
Richmond has the second-lowest tax burdens on this list, making it one of the best places to retire in Texas on a budget. It's close to both Houston and Sugar Land. So there are plenty of recreation and entertainment options.
With many beautiful and historic homes, Richmond rests on the Brazos River just 15 miles southwest of Houston. As of 2019, just over 11,600 people call Richmond home, and the community is growing. This Fort Bend County town makes our list due to its location, amazing scenery, low crime rates and retiree tax benefits.
4 – Woodway, Texas
A suburb of Waco, Woodway is a popular destination for retirees in Texas. Baylor University is only 10 minutes up the road. This gives retirees access to sports, arts and other forms of entertainment.
Woodway is also home to the Carleen Bright Arboretum. You can "explore a winding path lined with plants and abundant wildlife native to the area," according to the town's website. The landscape is unlike anything you'll find in the rest of the state.
3 – Olmos Park, Texas
Olmos Park offers the most luxurious and safest community of all the cities on this list. However, it's also the most expensive. This city has a suburban feel, with a population of around 2,000 people.
The public school system in Olmos Park has the highest ratings in the state. As a suburb of San Antonio, its entertainment and recreational value is very high. This Bexar County town is a great place to settle in retirement if you are looking for an upscale community.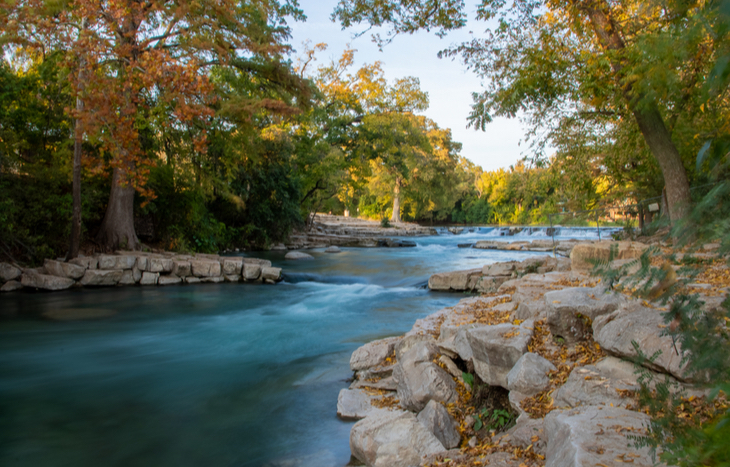 2 – San Marcos, Texas
According to Forbes, San Marcos is the best place to retire in the Southwest. This riverfront town has a low crime rate and a strong economy. It's home to Texas State University, which lets you sit in on classes for free if you're over the age of 65.
With a warm climate and safe communities, this affordable and tax-friendly city is popular for retirees. The San Marcos river also makes this town a great place for fishing, tubing, canoeing and swimming. Within an hour of both Austin and San Antonio, you have easy access to major cities.
1 – Granbury, Texas
Granbury is one of the best places to retire in Texas. In our eyes, it's the cream of the crop. With the lowest tax burden in this list, you can protect more of your retirement savings. The town is also west of Fort Worth and only an hour away from Dallas.
Seniors account for nearly 30% of the population in Granbury. This makes it easy to settle there, with many built-in retirement communities already in the area. The city has a historic charm to it, with Granbury Square, museums and musical venues. Lake Granbury has also become a popular spot for visitors from across the country during the spring and summer months.
Find the Best Places to Retire in Texas Today
As you can see, Texas is a great state to live in during retirement. The tax advantages alone can compete with nearly any state across the country.
These five cities encompass the true passion of Texas living outside of major cities. From Granbury to Richmond, you can't go wrong with a move to the Lone Star state.
Before retiring, it's important you have financial preparations in place and your investments in order. This will give you more flexibility in finding the best cities to retire in Texas. However, many people will look elsewhere for their perfect retirement location. For more information, visit our lists for the best places to retire in California, Florida, North Carolina, South Carolina, Georgia, Arizona and Mexico.
---
Corey Mann is the Content Manager of Investment U. He has more than 10 years of experience as a journalist and content creator. Since 2012, Corey's work has been featured in major publications such as The Virginian-Pilot, The Washington Post, CNN, MSNBC and more. When Corey isn't focusing on Investment U, he enjoys traveling with his wife, going to Yankees games and spending time with his family.