Retirement
Top 10 Best Places to Retire in California in 2022
California is a state that offers many benefits to retirees. On the West Coast, there's no better place to call home at the end of your career. California offers tax exemptions for retirees, national parks and other entertainment. The Golden State can provide a great lifestyle during retirement. Learn more about the best places to retire in California below.
No matter your budget, California is a popular destination for retirement. There's culture in every direction. You'll find top cuisine and many attractions across the state. Our list below can help you find the perfect match for your retirement plans.
What to Look For: Best Places to Retire in California
People have different retirement living needs and interests. At Investment U, we take this to heart. We put together a list of cities that cover financial and personal preferences. For example, the features we take into consideration include…
Cost of living and tax exemptions
Culture and entertainment value
Medical care facilities and healthcare
Recreational activities
Crime rates and general information
California isn't the most tax-friendly state. However, many families move to California in retirement. Learn more below about the best places to retire in California that provide the biggest breaks and amenities to retirees.
10 – Roseville, California
Roseville is the largest city in Placer County. The city has a population of 141,500 as of 2019. Just 25 minutes outside of Sacramento, Roseville is a common place for retirees looking for a suburban feel and safe communities.
Senior citizens account for about 15% of all Roseville residents, and the median house value is $685,000. That's competitively priced housing within 30 minutes of the Sacramento entertainment scene. Roseville is one of the best places to retire in California.
9 – Santa Rosa, California
Santa Rosa, California, is one of the healthiest cities in America. It's home to great medical care, with excellent healthcare options and providers.
The Sonoma County city is 55 miles north of San Francisco. It's a popular place for outdoor activities and entertainment. A hub for California's wine country, you can't go wrong with Santa Rosa.
8 – Irvine, California
According to WalletHub, Irvine has the second-best healthcare options in the country. It's the tenth-healthiest city in the nation, with high green space, fitness and food rankings.
Numbers don't lie, and Irvine is near the top of just about any list you can find. The city is full of great arts and culture. Along with outdoor recreation and the Orange County Great Park.
7 – Carlsbad, California
Carlsbad is known for its beaches, flower fields and Legoland Hotel. It's also one of the best places to retire in California. A city near San Diego and just 87 miles outside of Los Angeles, Carlsbad is a great location for anyone who loves coastal living.
This is the ideal spot for retirees who are looking to get away from the urban life and for a more laid-back environment. The pace is slower, the healthcare is above average, and the entertainment is underrated. Learn more about this San Diego County city today.
6 – Pasadena, California
Can you smell the roses? Pasadena is the home of the world-famous Rose Bowl, as well as an ever-growing community of retirees. We rank Pasadena high in many categories, including healthcare, crime rates, amenities and more.
The culture is unlike that found anywhere else in the country. In addition, the city boasts some of the biggest events and entertainment in the state. The Rose Bowl Stadium is the home of UCLA football and the historic Rose Bowl Game. It takes place every January, along with their famous parade.
5 – Glendale, California
The urban atmosphere of Glendale gives you the feel of a big city. It's only 15 minutes outside of Los Angeles, which gives you access to all the entertainment you can ask for.
We rate Glendale for its healthcare options and medical center availability, which is a priority for most retirees. With its access to Los Angeles, low crime rates and entertainment value, we believe Glendale is one of the best places to retire in California.
4 – Burbank, California
Overall, Burbank is recognized as a popular landing spot for retirees in California. Only 17% of its residents are youth. The Los Angeles County town has a big-city feel with above-average safety. And it's right up the road from Hollywood.
Though Burbank provides housing for all income levels, its median household value is nearly $600,000. People know the city as the "Media Capital of the World," with Warner Bros., Walt Disney, Nickelodeon and Cartoon Network having their headquarters there.
3 – Visalia, California
You can find Visalia at the foothills of the Sierra Nevada. It's known for its national parks, outdoor entertainment, family fun and agriculture. It's listed as one of the best places to retire in California by many publications.
From Kings Canyon National Park to Sequoia National Park, Visalia is perfect for the adventurous, with more than 800 miles of trails and hiking spots. The people are friendly, the entertainment is lively and the culture is as good as it gets. There truly aren't many better choices than Visalia.
2 – Torrance, California
On the southwestern side of Los Angeles County, this beach city is diverse, safe and full of fun. Torrance is home to 1.5 miles of Pacific Ocean beaches. It has warm weather almost year-round and many entertainment and recreational activities.
Los Angeles, Santa Monica and Anaheim are all less than an hour away. Also, Torrance has some of the lowest crime rates in the state and is considered the safest city in Los Angeles County.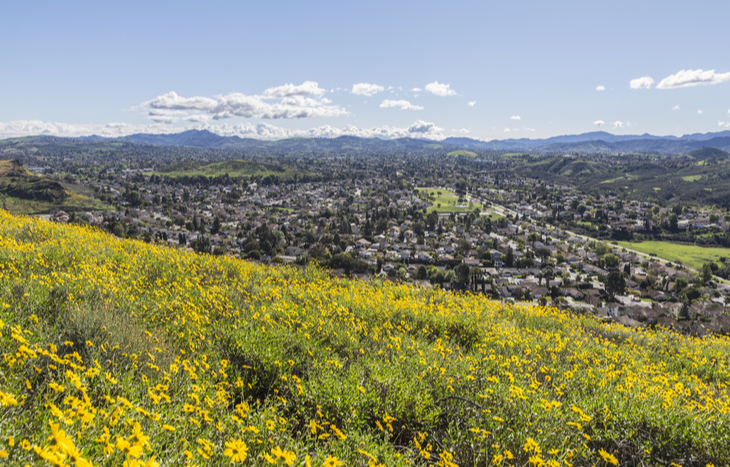 1 – Thousand Oaks, California
It may be the second-largest city in Ventura County, but it's at the top of our list for best places to retire in California. Thousand Oaks is one of the fastest-growing cities in the country, and for good reason.
It has a wide range of arts, literature and music that make it a cultural hotbed in California. There's also a network of trails for backpacking, mountain biking and camping.
Thousand Oaks has the best safety and crime ratings on this list. According to recent FBI reports, Thousand Oaks is the fourth-safest city in the nation, with a population greater than 100,000. It also has high marks for healthcare providers and medical centers.
Being 40 miles outside of downtown Los Angeles, you also have easy access to big-city entertainment and nightlife. As you can see, this suburban city has anything and everything you could ask for in retirement.
Find the Best Places to Retire in California Today
The list above may not include many of the cities you may have expected, such as Los Angeles, San Francisco or San Diego. However, the cities from our list can provide a better quality of life in retirement with easy access to bigger markets. If California isn't the best option for you, visit our lists for the best places to retire in Florida, Texas, North Carolina, South Carolina, Georgia, Arizona and even Mexico.
The best places to retire in California can suit your specific needs and provide the utmost comfort and security. Begin the search for your forever home in the Golden State today.
---
Corey Mann is the Content Manager of Investment U. He has more than 10 years of experience as a journalist and content creator. Since 2012, Corey's work has been featured in major publications such as The Virginian-Pilot, The Washington Post, CNN, MSNBC and more. When Corey isn't focusing on Investment U, he enjoys traveling with his wife, going to Yankees games and spending time with his family.