Hawaii isn't the most affordable state, but it regularly ranks near the top of any list for retirement. How is this possible? The best places to retire in Hawaii may be more expensive than places in the mainland U.S., but they're also home to the best weather in the country, multi-faceted cultures and growing recreational communities.
According to Bankrate's annual report, Hawaii ranks as the 33rd best state for retirees. While its crime ranks 32nd overall and its affordability ranks in last place at 50th. Hawaii is inside the top 11 for every other ranking category. These categories include weather (in which it ranks 9th overall), wellness (2nd overall) and culture (11th overall).
Is it Smart to Retire in Hawaii?
Retiring in Hawaii has a lot of perks. However, it's best suited for retirees that have financial freedom. The cost of living is very high in the Aloha State. Current data shows that:
The cost of consumer goods are very high in Hawaii, according to Investopedia.
Honolulu is the third most expensive city in the country, according to Yahoo! Finance.
Hawaii has the third most expensive nursing homes nationwide.
In general, your expenses will likely exceed that of your current home state.
These numbers above are definitely a cause for concern. Yet, you don't have to be in the top 1% to retire in Hawaii. If you are preparing to make the move once your career is over, it's important to make proper investments now. This includes beefing up your retirement funding, putting money into the stock market and conducting other business ventures.
Your first thought may be to consider Honolulu. But this can be extremely difficult if you are on a budget. Below is a list of five Hawaiian towns that are perfect for sun-loving retirees who aren't trying to break the bank.
5. Lihue, Kauai
Are you looking for country living in Hawaii? You can kick back and become a part of the community in Kauai. It has a small-town atmosphere and is perfect for anyone who loves the outdoors. You can go on some of the most amazing hikes or visit the Kalapaki cliffs. There are plenty of small towns and quaint neighborhoods on the island, each of which are diverse and easily accessible.
Lihue is the county seat of Kauai, and it has the best mix of entertainment value and recreation. There are also numerous retirement communities in the area.

4. Kaneohe, Oahu
Kaneohe is only 25 minutes away from the capitol of Honolulu. The two cities are separated by the Koolau Mountains. From the mountains to the beach, from the city lifestyle to the country lifestyle, Kaneohe has it all.
Kaneohe Bay stretches through the coastline and is a popular spot for fishing, boating, kayaking and surfing. The views are beautiful, and the water is clear. The bay is also home to a famous sandbar where visitors play beach volleyball, sand soccer and soak up the sun.
Another popular destination in Kaneohe is the Byodi-In Temple. It rests at the foothills of the Koolau Mountains along the Kamehameha Highway. The temple itself is surrounded by tropical rainforest and its home to amazing Japanese gardens, koi ponds and white peacocks. It's a non-practicing temple that welcomes guests of all faiths, as well as those who simply want to appreciate its beauty.
3. Kailua-Kona, Big Island
Kailua-Kona is a golfer's delight with an attractive downtown area and oceanfront. You can find many award-winning golf courses in the area, including Mauna Key Championship Golf Course. In 2019, Mauna Key was ranked as the 26th greatest public golf course in America by Golf Digest.
You can visit the famous Kona Brewery for lunch and a drink or zipline through the Hawaiian forest at Kohala. Home to the Kaloko-Honokohau National Historic Park, Kailua-Kona is perfect for adventurers. Here, you can truly discover the spirit of Hawaii through the  freshwater pools and ponds spread throughout the park.
2. Paia, Maui
You can't retire in Hawaii without first considering Maui as your destination. Maui has won Conde Nast's Best Island Award a whopping 19 times. The town of Paia is a great place to consider. It's a charming town that isn't overrun by tourists. There are plenty of great restaurants, interesting shops and art galleries.
The beaches are within walking distance of practically everything in Paia. And you may also run into a celebrity or two from time-to-time. Willie Nelson is often seen in Paia at the local saloon.
The city is also home to Mana Foods, which is considered by many people in Maui as the islands premier natural food market.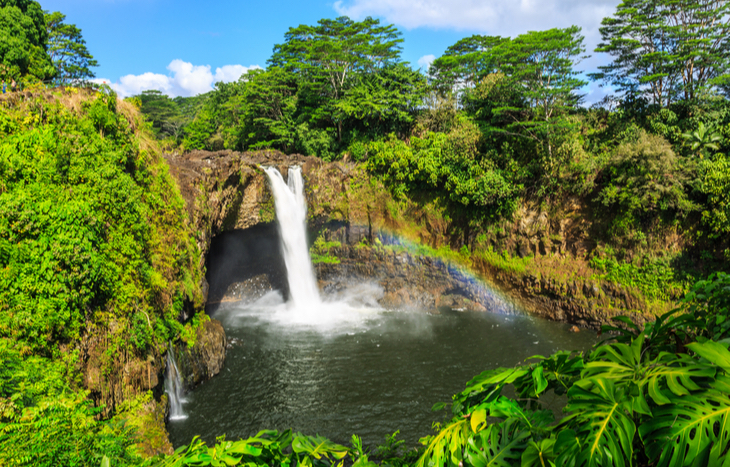 1. Hilo, Big Island
Hilo tops this list as the best place to retire in Hawaii for its reasonable cost of living and relaxing lifestyle. In fact, it's much cheaper than the more popular cities in Hawaii. The cost-of-living index is 18% less expensive than the state average, according to AreaVibes.
Outside of the cost advantages, Hilo is popular for its gardens, zoo and distinctive rainbow waterfalls. Panaewa Rainforest Zoo has more than 80 animal species. There's also the Japanese-style Lili'uokalani Park and Gardens or the Hawaii Tropical Botanical Garden to visit.
Hilo is also home to Rainbow Falls, which is a Hawaiian treasure on its own. The waterfall is 80 feet tall and free for visitors of the state park. The Wailuku River runs into the waterfall's large pool, which is 100 feet in diameter. The waterfall itself flows overtop a natural cave and its common for rainbows to appear in the morning on sunny days.
Finding the Best Places to Retire in Hawaii
Retiring in Hawaii may be a dream scenario, but you can make it a reality with the right investments. You may also want to considering retiring in Florida, Georgia, Texas, Arizona, or California. These destinations are becoming more popular for retirees in the U.S.
No matter your specific needs and circumstances, you can make the most of your retirement.
Making Good Investments to Retire in Hawaii
There are investment opportunities that can make a huge impact in your retirement outlook. From commodities to bonds and stocks, you can give yourself a boost leading up to your retirement. However, these investments can be complicated, which makes it difficult to build a stable and diversified portfolio.
Nevertheless. it's important to prepare for retirement by building towards financial independence throughout your life. This will give you the stability to retire on your own terms. And you may find the best places to retire in Hawaii fit well within your plans if you make smart investment decisions along the way!
---
Corey Mann is the Content Manager of Investment U. He has more than 10 years of experience as a journalist and content creator. Since 2012, Corey's work has been featured in major publications such as The Virginian-Pilot, The Washington Post, CNN, MSNBC and more. When Corey isn't focusing on Investment U, he enjoys traveling with his wife, going to Yankees games and spending time with his family.