Cloud computing dominated most of the past decade. Accordingly, major cloud computing stocks like Amazon, Microsoft and Google enjoyed impressive returns. Looking forward, edge computing stocks could be poised to dominate the 2020s.
If you're not familiar, edge computing is a new type of internet architecture. In the 2010s, cloud computing was the most popular internet architecture. Cloud computing involves storing data in "the cloud". This cloud mainly lives on huge data hubs. However, over the past decade, the amount of data that we create has risen exponentially. Routing all of this information to one central hub is getting increasingly inefficient.
Edge computing has emerged as a more efficient internet architecture. It works by moving information out of the cloud and closer to the end-user.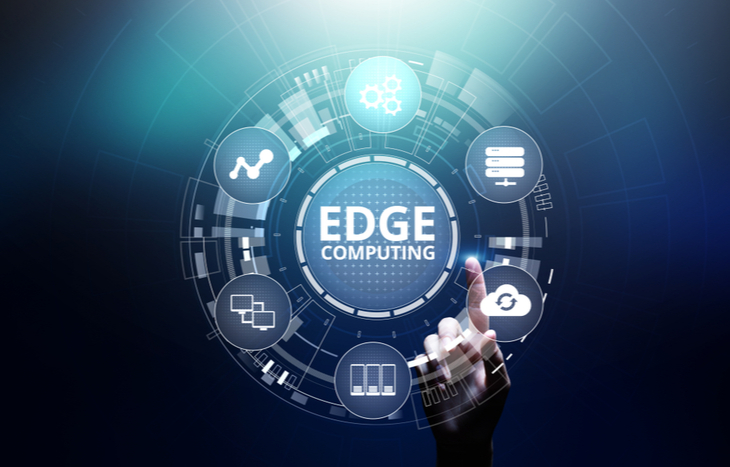 How Edge Computing Works
To get an idea of how edge computing works, let's examine a company like Walmart. Walmart processes billions of pieces of information each day. Each Walmart location experiences tens of thousands of transactions every day. Walmart can use this data to get better insight into its business. For example, it can help Walmart's management understand who is buying which products and when. Walmart can then leverage this data to run specific marketing campaigns or  redesign its stores.
Let's say that Walmart uses a cloud computing system to help process all of this data. Data from thousands of Walmart locations is routed to just a handful of data centers. This process takes time, can overwhelm the network, and lead to congestion.
A more efficient method is for Walmart to use a localized data center at each Walmart location. Each localized data center would process data from that specific store. Once actionable insights are pulled from the data then they can be sent to Walmart's main data hub. This allows Walmart to process information much more quickly.
Edge computing is a driving force behind technologies like self-driving cars, IoT and artificial intelligence. With that said, let's take a look at how you can invest in this rapidly growing industry.
Here are five of the best edge computing stocks to buy.
NOTE: I'm not a financial advisor and am just offering my own research and commentary. Please do your own due diligence before making any investment decisions.
No. 5 Nvidia (Nasdaq: NVDA)
Nvidia used to be primarily a gaming-card vendor. In recent years, it has transitioned to a leader in artificial intelligence. It has dozens of different business lines for both software and hardware. This includes a range of solutions for edge computing.
Nvidia is considered one of the most versatile edge computing stocks. This is because it sells both hardware and software. In this sense, it operates a little bit like Apple. Apple sells iPhones (hardware) but also owns the App Store (software) where people download apps.
Nvidia's edge computing solutions are part of its EGX Platform. This suite of tools offers hardware that's capable of speech recognition, business forecast, and immersive graphical experiences. In addition to this hardware, Nvidia also offers Nvidia AI Enterprise. This suite can be used for rapid deployment, management, and scaling of AI workloads.
In general, there are countless applications of edge computing technology. However, Nvidia outlines five specific use cases on its website. These use cases are for retail, manufacturing, healthcare, telecommunications, and smart cities. To help boost its solutions, Nvidia recently acquired Bright Computing.
In FY 2021, Nvidia reported annual revenue of $16.68 billion. It also reported a net income of $4.33 billion. Nvidia's stock was up approximately 98% during 2021. It is also up about 936% over the past five years.
No. 4 IBM (NYSE: IBM)
IBM anticipates that edge computing will become a huge market. Right now, only 10% of enterprise data is processed at the edge. By 2025, IBM estimates that this number will jump to 75%. This could be part of the reason that IBM is spinning off its legacy business. This move will allow IBM to focus on more cutting-edge technologies. One area of focus? Edge computing, benefiting edge computing stocks.
IBM plans to split into two companies. The new business, Kyndryl, will take over IBM's infrastructure services business. IBM, on the other hand, will be free to focus on its hybrid cloud platform and artificial intelligence. From an investor perspective, this could help paint IBM in a new light. It's similar to Ford's transition to electric vehicles. Ford has recently put its full weight behind developing EVs. This has caused investors to see the stock more favorably. In 2021, Ford stock rose 150%. IBM could go through a similar turnaround post spinoff. However, it will probably take several months, if not years to work through the kinks.
In 2020, IMB reported annual revenue of $73.62 billion. It also reported a net income of $5.59 billion. IBM's stock was up approximately 11% during 2021. However, it is down 15% over the past five years.
No. 3 Fastly  (NYSE: FSLY)
Fastly is one of the best pure-play edge computing stocks. I say this because companies like IBM and Nvidia have dozens of other business lines. Granted, they make money from edge computing. However, this revenue stream is just small slice of their total income. On the other hand, Fastly's entire business is edge computing. In fact, its mission is to "provide developers with a secure and programmable edge computing platform."
So far, Fastly is still working towards becoming profitable. However, it has done incredibly well in expanding its enterprise client base. From 2018 to 2020, Fastly added 97 new enterprise clients. During this time, the average spend per client also increased from $536,000 to $782,000. Fastly is increasing both its quantity of clients as well as the average client spend. Enterprise clients are by far the most valuable. So far, Fastly has done a great job in securing them. This could set Fastly up to become very profitable in a hurry.
In 2020, Fastly reported $290.87 million in revenue. It also reported a net loss of $95.93 million. Fastly's stock was down approximately 62% in 2021. However, it is up 33% over the past five years.
Edge Computing Stocks No. 2 Cloudflare (NYSE: NET)
Just like Fastly, Cloudflare is one of the best pure-play edge computing stocks. Its mission statement is to "help build a better internet". It claims that the modern internet was not built for what it has become. Cloudflare wants to be the foundation that new applications and infrastructure are built on.
Cloudflare has also done an excellent job prioritizing bigger clients. From 2019-2021, its number of large customers has grown from 451 to 1,260. This is a compounded annual growth rate of 67%. Cloudflare defines "large customers" as those that spend over $100,000 in annualized revenue.
In 2020, Cloudflare reported annual revenue of $431.06 million. It also reported a net loss of $119.37 million. Cloudflare's stock was up 25% during 2021. It is up almost 400% since going public in late 2019.
Edge Computing Stocks No. 1 ARK Next Generation Internet ETF (NYSE: ARKW)
Usually, it's a better idea to invest in industries, not companies. This is especially true in emerging industries. For example, electric vehicles could potentially be the future of transportation. However, in 10 years, which company will be on top? It could be Tesla, Rivian, Lucid, Nio, a legacy automaker, or even a company that doesn't exist yet.
The odds of correctly picking a winning industry are relatively high. However, the odds of picking a winning company are much smaller. Due to this, many investors will buy shares of exchange-traded funds (ETFs).
An exchange-traded fund (ETF) is a fund that owns shares of many different companies. This allows you to get exposure to entire industries without putting all your eggs in one basket. There are two good ETFs when it comes to edge computing stocks. These are the Ark Next Generation Internet ETF and the Evolve Innovation Index Fund.
I hope that you've found this article on the five best edge computing stocks to be valuable! As usual, please base all investment decisions on your own due diligence and risk tolerance.
---