EV truck stocks are set to be on the receiving end of millions of investment dollars over the coming years. For one, pickup trucks are some of the most popular consumer vehicles in the U.S. And as more countries push for green initiatives, there will be increasing calls to de-carbonize long-haul trucking, too.
Hydrogen is also a potential power source for semi-trucks going forward, and there is the possibility that hydrogen power could become the new standard for semis in the coming years. You're covered there as well, though, as you can also invest in hydrogen fuel cell stocks.
That being said, the electric pickup revolution is already on the horizon. Several big-name automakers have electric pickups planned. This includes the Ford F-150 Lightning, Chevy Silverado EV and the GMC Sierra EV. Indeed, it looks like it's full-speed ahead for electric pickups.
That means it's the perfect time to invest as EV trucks start to gain market share. As you might have noticed, there are several large automakers entering the market, too. So you don't have to invest in a risky startup to be a part of the impending revolution.
Here are the best EV truck stocks to buy right now:
General Motors Company

(NYSE: GM)

Rivian Automotive, Inc.

(Nasdaq: RIVN)

Hyliion Holdings Corp

(NYSE: HYLN)

Nikola Corporation

(Nasdaq: NKLA)
For the most part, different companies produce electric pickup trucks and EV semi-trucks (Tesla could be an exception). Hence, we'll look at these segments separately.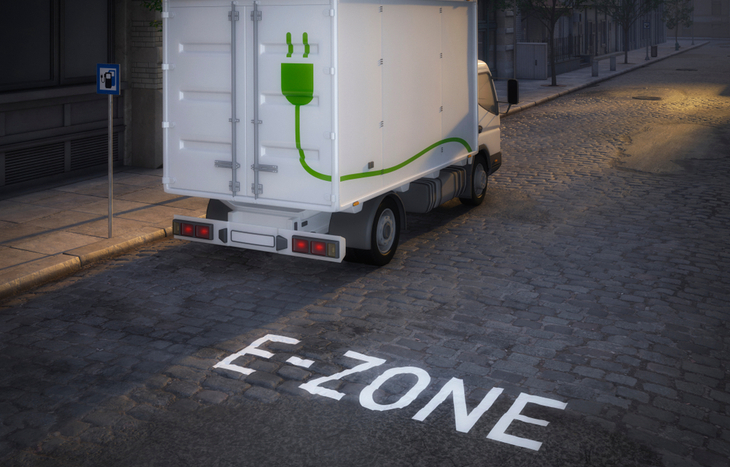 Best EV Truck Stocks
General Motors
GM has a long history of success in the U.S. consumer auto market. And that of course means it has mostly produced internal combustion engine vehicles. But that is finally changing, and GM has committed to going all-electric by 2035. That means converting its entire existing line to electric, including its most popular vehicle, the Chevrolet Silverado pickup. Chevy has a Silverado EV planned, which will be available in spring 2023.
Despite being a household name in the U.S., GM shares are currently undervalued. The $87 billion company is trading at about $60 currently despite turning a consistent profit every quarter. Its revenue is in the tens of billions and it has an attractive P/E ratio of 7.47. Forecasts show a nice upside for the stock, so right now is a great time to invest. It's no wonder why investors are adding it to their list of EV truck stocks. 
Rivian
Rivian is the new kid on the block, at least among those working on electric pickups. Along with Lordstown, Rivian is one of the few startups promising an electric pickup that looks like it'll be a consumer favorite. For Rivian, that's the R1T. Since SUVs are also widely popular in the U.S., it's also working on the R1S, an all-electric SUV. Both vehicles have impressive ranges and look great; the R1S looks a bit like a Range Rover with a slightly longer and flatter profile.
Rivian just started vehicle deliveries and just completed its 1,000th delivery. Yes, shares of RIVN are actually on a downward trend right now, with a possible explanation being that it is facing competition in selling vehicles to Amazon. Nevertheless, forecasts have the stock increasing substantially over the next year. And this could very well happen if it can turn a consistent profit, be to sure to keep an eye on this EV truck stock.
EV Semi-Truck Stocks
Nikola
Nikola is arguably the name drawing the most attention in the EV semi-truck world. Perhaps that's partly due to the controversy over allegedly fake video demonstration. But Nikola's upcoming vehicles do look impressive. For instance, the Tre fuel-cell electric vehicle (FCEV) is expected to have up to 500 miles of range with 645 continuous horsepower. It hasn't yet begun deliveries of the Tre FCEV. However, this EV truck stock delivered the first Tre battery-electric vehicle (BEV) in December 2021.
The company went public in 2020 and after an initial jump to over $60, NKLA shares trade for under $10 today. The company is worth $4 billion but hasn't yet turned a profit consistently. However, it's still very early days for Nikola. It won't start deliveries of the Tre FCEV until 2023. And it'll only deliver 70 of them in 2023. Clearly, Nikola hasn't quite proven itself, which is probably why analysts recommend holding the stock for now. Still, they give it a significant upside of about 40% above its current price.
Hyliion
Hyliion is probably the least recognizable name on this list of EV truck stocks at this point. However, that could change in the future. The company went public in June 2020 as part of a special purpose acquisition with Tortoise Acquisition Corp. Hyliion's focus is primarily on class 8 tractor-trailer electrification. However, unlike Nikola, Hyliion doesn't intend to manufacture its own, fully-electric semi-trucks. Instead, it is developing two types of hybrid drivetrains for existing diesel-powered trucks that will increase range and fuel efficiency.
For instance, its Hypertruck ERX system is an all-electric drivetrain. It has a battery pick that is recharged by the truck's diesel-powered engine. We could call this something of a bridge technology, but it could be in demand for several years while the market determines what will be the new standard for semi-trucks.
Since Hyliion's SPAC with Tortoise, its share price has been on a downward trend. This is perhaps no surprise since it hasn't posted a consistent profit, and Q4 2020 is the only one of the past four quarters in which its net income was positive. Its cash reserves are dwindling, too. Analysts do project a rise in HYLN shares over the next 12 months, but the consensus is to hold for now. Again, they'd like to see some consistent profit before recommending a buy.
---