Crypto
Litecoin Price Prediction: Why We're Still Bullish on This OG Altcoin
Litecoin seems to have fallen off the radar of a lot of crypto faithful of late. And it makes sense. A lot of new altcoins have shown up recently that have put the gains of Litecoin (LTC) to shame. See Solana for starters. But this Litecoin price prediction could be a reason that changes.
Litecoin is one of the OCs (original cryptocurrencies). It was launched back in 2011 as a source code fork of the Bitcoin core client. As such, it quickly earned a reputation as being the silver to Bitcoin's gold. And even though it hasn't nearly kept up with Bitcoin in terms of value, it does bring some notable benefits to the table.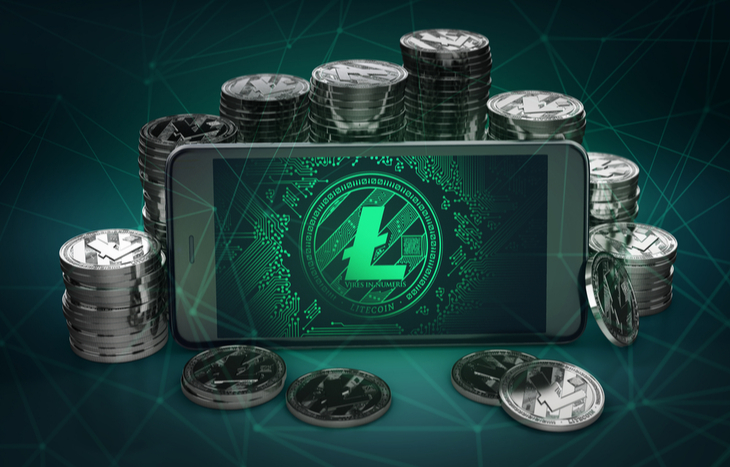 For starters, the Litecoin network processes blocks on the blockchain every 2.5 minutes. This as opposed to the 10 minutes it takes for Bitcoin blocks to be processed. Naturally, this allows transaction confirmations to be processed much faster for Litecoin. This was established through an effort to contest the high barrier of entry for crypto miners. Even back when Litecoin was launched, crypto mining was largely done by general-purpose computing on graphics processing units. This weeded out the cheaper CPUs that once dealt with mining operations.
In turn, every-day miners were pushed out of the game. That is until Litecoin came along. In a way, Litecoin re-democratized crypto mining. While the bourgeoisie could mine their Bitcoin, the proletariat had access to Litecoin. The other big difference between these two coins is the supply limit. While Bitcoin has a supply limit of 21 million, Litecoin has a supply limit of 84 million. To date, roughly 19 million Bitcoin are in circulation. And nearly 70 million Litecoin are in circulation.
Litecoin Price Prediction: Better for the Long Haul
Beyond the mining, processing time and supply, Litecoin and Bitcoin are very similar. So anyone that's a fan of Bitcoin should (in theory) be just as bullish on Litecoin. For this reason alone our Litecoin price prediction looks promising. As Bitcoin's value rises, so too should Litecoin's… Albeit at a slightly slower rate due to the available supply.
Furthermore, Litecoin still has a lot of room to grow. While about 90% of all Bitcoin has been mined, only around 80% of Litecoin has been mined. Once the total supply of Bitcoin is mined, some feel that could be disruptive to its status as a viable security. Once the total supply is in circulation, miners will only be rewarded in transaction fees.
Here's the problem with that… It takes a massive amount of bandwidth to mine Bitcoin. This is a crucial piece of the pie. But when miners are no longer rewarded in Bitcoin, it's possible no new blocks will be produced on the blockchain. This in turn would make it all but impossible to spend Bitcoin. And what's an asset really worth if you can't spend it?
While this is a doomsday scenario, studies have shown that transaction fees alone may not be enough to incentivize miners. However, such a fate could be very different for Litecoin miners. Since the barrier to entry is lower for Litecoin, the long-term outlook for a Litecoin price prediction is a bit more stable. And this could make it a better option for those that plan to hold onto their crypto for many years.
Predicting the Future
Full disclosure: a so-called doomsday scenario for Bitcoin is a long way off. Miners and investors should continue making money off it for awhile. And in the coming years, Bitcoin could continue to outpace Litecoin.
Both Litecoin and Bitcoin realized major volatility in 2021. In fact, most of the crypto market did. Thanks to the gift of hindsight, it's fairly easy to see that either would have been a solid investment nonetheless. And that's likely to continue to be the case for the near future.
Crypto isn't going anywhere. If anything, it's only grown more popular throughout the past couple years. Crypto adoption is growing faster than China can ban it. In fact, China could be on the cusp of reversing its stance on crypto. Though from our vantage point, that seems unlikely due to the emphasis the country is putting on its digital yuan.
But regardless, other countries are adopting crypto as the default currency. Hedge funds are being built around crypto. And the New York Stock Exchange recently welcomed the Proshares Bitcoin Strategy ETF (NYSE: BITO). And there's likely more where that came from. We won't be selling any of our Bitcoin soon. But we will be stocking up on Litecoin while we continue to hold. Seeing another rise in value in the next 12 months seems reasonable.
The Bottom Line on Litecoin
Litecoin isn't the sexiest altcoin out there. We know that. Anyone reading this Litecoin price prediction probably knows that too. Over the next year, scores of new coins will come out that are likely to beat Litecoin handily in terms of increased value. But Litecoin comes with something they won't: Security.
Crypto scams aren't always easy to spot. In the crypto community, getting burned by a scam coin can even be seen as a rite of passage. And yes, it can be a good learning experience. But for those looking for a solid investment, you could do a lot worse than Litecoin.
Speaking of investment opportunities, continue to look for the next-generation of altcoins with more explosive growth potential. Some cryptos can reshape the way digital transactions take place, how information is stored and even how we use the internet.
---
Matthew Makowski is a senior research analyst and writer at Investment U. He has been studying and writing about the markets for 20 years. Equally comfortable identifying value stocks as he is discounts in the crypto markets, Matthew began mining Bitcoin in 2011 and has since honed his focus on the cryptocurrency markets as a whole. He is a graduate of Rutgers University and lives in Colorado with his dogs Dorito and Pretzel.