The Mobileye IPO is coming to the market soon. The company announced it confidentially filed with the SEC to jumpstart its public offering.
Should you invest in Mobileye stock? Here are the latest details…
Mobileye IPO: About the Business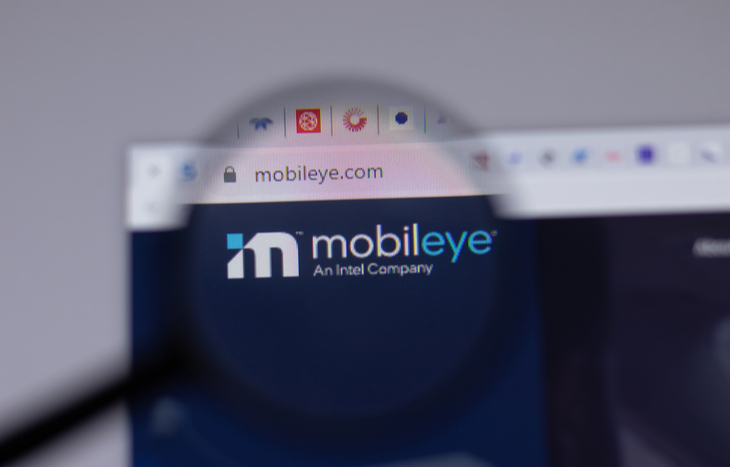 Mobileye is a global leader and an innovator in the field of advanced driver assistance systems (ADAS) and autonomous driving solutions. The company is an Israeli subsidiary of Intel.
The company's technologies enable self-driving vehicles and mobility solutions. For example, Mobileye develops chips and software for ADAS. Lane departure warnings, pedestrian detection and whole-car autonomy are just some of Mobileye's technology capabilities. In addition, Mobileye provides the world's leading advanced driver assistance systems and valuable intelligence for optimizing mobility infrastructure.
Mobileye is a pioneer in the autonomous vehicle (AV) space. The company introduced technology such as True Redundancy Sensing, REM crowdsourced Mapping and Responsibility Sensitive Safety (RSS). As a result of these technologies, ADAS and AVs are becoming a reality. In a Barron's report, Gus Richard, an analyst for Northland Securities, emphasized the company's worth…
Mobileye is the leading supplier of silicon and software for ADAS. Mobileye is in an estimated 45 million to 50 million vehicles, and it collects driving data from these cars. Data is the feedstock in an AI-driven world and Mobileye has more driving data than everyone else combined. Mobileye is leading the deployment of robotaxi and mobility as a service. This makes Mobileye a valuable asset for an autonomous vehicle future.
Richard also noted that the Mobileye IPO could land the company a deserving valuation of $50 billion. Furthermore, Mobileye stock could give the company a cash infusion to help further advance its autonomous vehicle development…
Mobileye Stock Will Fund Continued Innovation Efforts
Under CEO Pat Gelsinger, Intel is aiming to turn its core business around through the Mobileye IPO. During the last few years, new technologies have been gaining traction in the global transportation business. And the demand for autonomous vehicles is growing rapidly.
As a result, Intel is aiming to take advantage of the demand by listing Mobileye stock on a stock exchange. In a statement, Intel also said it plans to hold on to its majority ownership of Mobileye following its public debut.
Instead, the two companies will continue as strategic partners. They will collaborate on projects to continue growth efforts in the automotive sector.  Furthermore, the complete division of Mobileye from Intel would be a mistake for the parent company.
Since Intel acquired Mobileye, the company has grown and achieved many innovations that can provide solutions to some of the most challenging issues of autonomous driving. When news of the Mobileye IPO broke, Amnon Shashua, founder and CEO of Mobileye, said…
Mobileye has realized accelerated growth and opportunity since joining the Intel family, nearly tripling annual chip shipments, revenue and the number of employees since the acquisition. Our alignment with Intel continues to provide Mobileye with valuable technical resources and support that has yielded strong revenue along with free cash flow that allows us to fund our AV development work from current revenue. Intel and Mobileye's ongoing technology co-development will continue to deliver great platform solutions for our customers.
Offering Mobileye stock will help the company fund its AV development to bring new solutions to the market. So, how do the company's finances stand? Let's take a look…
Mobileye IPO Valuation Cut to $30 Billion
Mobileye has proven to be a great investment for Intel. Intel acquired Mobileye in 2017 for around $15 billion. And Mobileye has consistently grown faster than its parent company since then. Moreover, AV is a rapidly growing industry. Intel predicts that by the end of the decade, the automotive semiconductor market will reach $115 billion.
The Mobileye IPO could value the company at more than triple what Intel paid for it in 2017. Assuming that is true, Mobileye would represent around a quarter of Intel's $200 billion market capitalization.
Intel's most recent earnings report revealed that Mobileye's 2021 revenue stood at $1.4 billion. The figure represents respectable growth year-over-year from the company's 2020 revenue of $967 million. Furthermore, Mobileye also reported $460 million in operating income.
Intel had originally hoped for a potential Mobileye IPO valuation of $50 billion. However, recently it was reported that these expectations have been scaled back to a valuation of as much as $30 billion. This comes amid a tech stock slump and ongoing market volatility.
Mobileye IPO: Filing Details
Intel announced plans for the Mobileye IPO back in December 2021. However, the company is making headlines after announcing it confidentially filed an S-1 form with the Securities and Exchange Commission (SEC).
While no official date has been announced for the Mobileye IPO, it will reportedly trade on the Nasdaq under the ticker symbol MBLY. The price and the amount of shares being offered is still unknown.
As of now, Intel has not officially announced the details for the upcoming Mobileye stock. The company said that the Mobileye IPO will debut "after the SEC completes its review process, subject to market and other conditions." And it could be one of the biggest stock market flotations of 2022.
There was an initial delay for the Mobileye IPO due to the recent market volatility. However, after its confidential filing recently became public, investors are gearing up for this exciting IPO. There is still hope that this autonomous driving giant could break open the stagnant tech IPO market.
Plans for the Mobileye IPO are still in their infancy. However, stay tuned for the latest updates on Mobileye stock. You can learn more about the IPO process in this step-by-step guide to going public.
As always, make sure to research before you invest. IPOs can be volatile for the first few months and share prices are constantly changing. Furthermore, if IPO investing interests you, check out our top recent IPOs and our IPO calendar. We update it frequently to give you the latest news on upcoming and filed IPOs.
---