Investors are eager for the Airtable IPO. The company's CEO has hinted at plans to go public but didn't give a time frame for its public debut.
So, when can investors get in on Airtable stock? Here's what we know…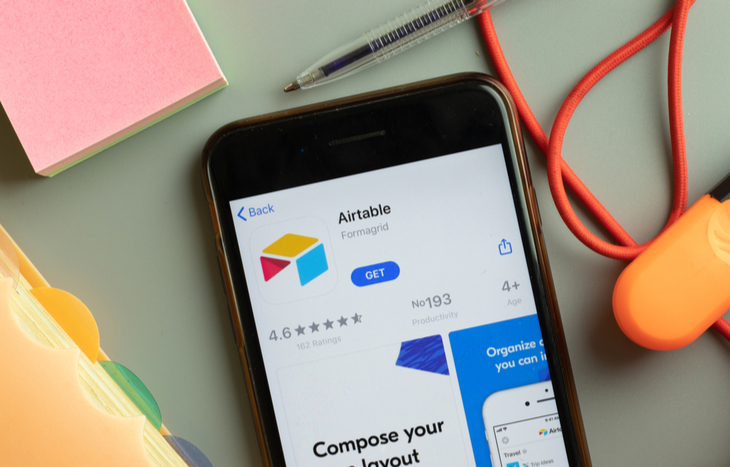 Airtable IPO: About the Business
Airtable is a cloud computing collaboration software company. It creates and shares relational databases using a simple, easy-to-use online platform. In addition to providing a variety of templates ranging from home improvement projects to store inventory, the company enables users to build custom applications without prior coding experience. According to the company's website, it "works like a spreadsheet but provides the power of a database to organize anything."
Airtable serves more than 300,000 companies, including around 80% of Fortune 100 companies. In its simplest form, Airtable's software enables employees to create custom spreadsheets that go beyond just numbers. These tools have been adopted by clients including Amazon, Shopify, IBM, Twilio, LVMH, Netflix, Nike, RH and Under Armour. Moreover, the company landed a spot on CNBC's Disruptor 50 list due to its innovative technology.
Airtable Ranks #33 on CNBC Disruptor 50
Airtable landed itself a spot on the CNBC Disruptor 50 list this year. It's no surprise that the company is among the leaders in the cloud computing industry. Moreover, Airtable is showing no signs of slowing down anytime soon.
With the opening of its first international headquarters in London on February 1st, the company is expanding its services into Europe, the Middle East and Africa. The company's international expansion will scale its business to help compete with industry giants like Asana, Smartsheet and Monday.com.
In addition, there is also top-down pressure from giants like Microsoft, Google and Amazon. These companies are battling it out for a full suite of cloud services, investing heavily in their low-code offerings. However, CEO Howie Liu is unfazed by the competition, telling CNBC…
It is a huge, huge category, ripe for the taking. We can own the biggest chunk of this enterprise opportunity.
Moreover, Liu said Airtable will "go public once we've shown we can dominate this category." Moreover, Airtable is currently presenting impressive financial figures as a private company. So, this presents a unique opportunity for the Airtable IPO.
Airtable IPO: A Look at the Finances
According to Liu, Airtable has already reached nine figures in revenue and is growing enterprise revenue at 100%. Furthermore, the start-up's net-dollar retention, or its total recurring revenue from existing customers, is greater than 130%, according to CNBC. This is because "more and more departments and teams within each company" are using the software, Liu said.
Moreover, Airtable's business valuation has skyrocketed in recent years. And this looks promising for the Airtable IPO. With a $100 million funding round in November 2018, Airtable entered unicorn territory at a business valuation of $1.1 billion.
Today, Airtable is worth 10 times that amount, thanks to $735 million in a Series F funding round led by XN in December 2021. The funding round included Franklin Templeton, J.P. Morgan Growth Equity Partners, Michael Dell's MSD Capital, Salesforce Ventures and Silver Lake. Funds advised by T. Rowe Price Associates also joined the round, according to Airtable.
This funding round brought the San Francisco-based company a staggering valuation of $11 billion. Among the list of the world's most valuable startups, Airtable landed at number 39 with its impressive valuation. Further, the company's valuation is bringing investors closer to the Airtable IPO. At the time of the funding round, Liu told CNBC…
This round really gives us financial freedom as a company. This bridges us to profitability and allows us to time an IPO at the time that's ideal for us as a company.
While Airtable stock isn't available to the public yet, Liu's hints have people wondering: when will Airtable IPO? Here's what we know…
When Will Airtable IPO?
While Airtable plans to go public at some point, the company has not announced plans for when investors can expect Airtable stock. As of now, the company has not filed paperwork with the Securities and Exchange Commission (SEC) to begin the IPO process.
Currently, it seems like the company is focusing on scaling its business to keep up with the highly competitive cloud computing industry. Therefore, investors shouldn't expect any news on the public debut in the near future.
However, when the company takes the plunge into the public market, Airtable stock will likely list on the New York Stock Exchange or Nasdaq exchange.
Keep an eye out for updates on the Airtable IPO. When investing, make sure to do thorough research on the company. The initial months following an IPO can be volatile. And share prices can change quickly.
If you're looking for other IPO opportunities, check out our top recent IPOs and our IPO calendar. We update it daily to give you the latest news on upcoming and filed IPOs.
---