The future of EVs looks promising. But there is one area many people are overlooking: electric vehicle (EV) battery stocks. In an environment where electric vehicles are already growing rapidly, now is an excellent time to invest in the field.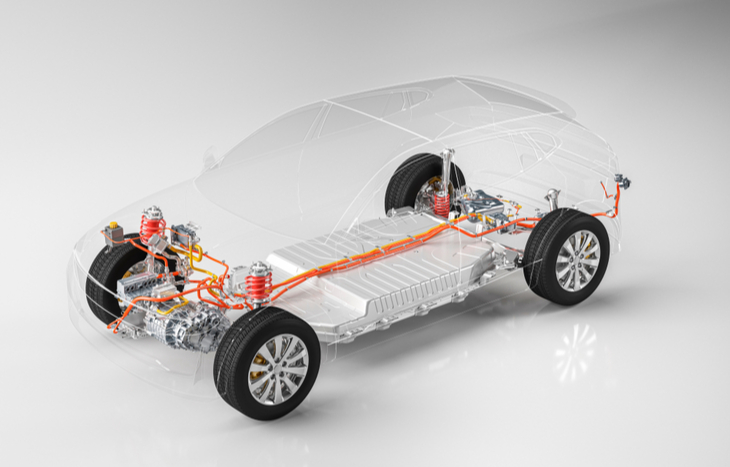 The Best EV Battery Stocks in 2022
QuantumScape (NYSE: QS)
FREYR Battery (NYSE: FREY)
Microvast Holdings (Nasdaq: MVST)
Romeo Power (NYSE: RMO)
Solid Power (Nasdaq: SLDP)
In this article, we'll discuss the five best electric car battery stocks to consider investing in. Before we begin, let's dive into the outlook for the EV battery market…
The Potential of EV Battery Stocks
The popularity of electric vehicles is growing rapidly as they become more mainstream. However, carmakers are only one part of the growing universe of EV stocks. Battery companies are essential to the development of EVs. Furthermore, the increase in EV sales will result in higher battery sales, thus benefiting the manufacturers of these batteries.
Investing in EV battery stocks could be a good move for investors who are looking to capitalize on the clean energy revolution. In recent years, EV stocks have been some most volatile stocks in the market but also some of the top-performing. Moreover, the EV industry presents a massive, long-term growth opportunity. Due to this, EV IPOs and early market leaders are being snapped up by investors.
Fortune Business Insights predicts the EV market will grow 24.3% annually from 2021 to reach $1.3 trillion by 2028. And this presents a massive opportunity for these electric car battery stocks.
To make things easier, here are company highlights for these EV battery stocks…
EV Battery Stock Company Highlights
QuantumScape
QuantumScape is a Volkswagen AG-backed EV startup that went public in 2020. The company is an electric vehicle firm based in California that creates solid-state lithium-metal batteries.
EVs do not currently use solid-state batteries. However, they're regarded as the next major advancement in EV battery technology. In addition to extending the range of electric vehicles, these batteries will last longer and be safer than today's batteries.
The company is at the forefront of research into solid-state batteries. As of now, no company has completed the production of solid-state batteries for EVs. If QuantumScape becomes the first, this investment could be very profitable.
This makes this stock a bit of a gamble compared to the rest. However, the company behind this EV battery stock is looking promising. QuantumScape is supplying its prototype batteries to EV manufacturers in 2022. As a result, its solid-state batteries could serve the commercial EV market in 2024 if they pass testing next year, making this a top electric car battery stock.
FREYR Battery
FREYR Battery is a Norwegian EV company. The company designs and manufactures high-density lithium-ion batteries for electric vehicles, buses, marine vessels and trucks. In addition, the company also offers energy storage systems.
In 2021, the company started the construction of its Customer Qualification Plant (CQP) and first battery cell production line in Mo I Rana, Norway. The plant plans to launch operations in the second half of 2022. As a result, the company can implement its 24M technology and test its materials and battery cells.
In addition, it will begin to supply samples to customers. Tom Jensen, CEO of FREYR, noted that the plant will become the first lithium-ion battery cell manufacturing facility at industrial scale in Norway. This will support its strategy of speed, scale and sustainability. Furthermore, the company's breakthrough in Norway presents a unique opportunity for this EV battery stock.
Microvast Holdings
Microvast Holdings is a pioneer manufacturer of fast-charging battery systems. This EV battery stock serves a range of vehicles from passenger and commercial EVs to heavy-duty trucks and railways. Furthermore, the company provides battery backups for data centers and energy storage systems.
Microvast has a vision to break down barriers to EV development and generate high-performance energy storage applications. With its ultra-fast charging capability, the company believes charging EVs will be as convenient as fueling conventional vehicles. In addition, the longer battery life of its systems can reduce the total cost of ownership of electric vehicles, according to the company.
As part of its expansion plans, Microvast purchased a 75,000-square-foot facility in Florida in November 2021. The building will serve as the company's headquarters for prototyping batteries.
Romeo Power
Founded in California, Romeo Power manufactures lithium-ion battery modules and packs for commercial electric vehicles. It also offers engineering solutions to electric vehicle manufacturers. The company was founded by a team of former Tesla and SpaceX engineers with a vision to give everyone access to clean energy in an electrified world.
One of the major clients of Romeo is Washington-based truck maker PACCAR. In 2021, Romeo Power announced a long-term agreement to provide PACCAR's EVs with battery packs, modules and battery management systems. Romeo Power will be a battery supplier for Peterbilt 579 and 520 EVs in the U.S. and Canada until 2025. This presents a great opportunity for this top electric car battery stock.
Solid Power
Founded in 2011, Solid Power commercializes low-cost, all-solid-state battery cell technology to extend the battery lifespan of EVs. The company also has extensive partnerships with BMW and Ford to develop all-solid-state batteries for their EVs.
In October, Solid Power sealed a multi-year contract worth $12.5 million with the Intelligence Advanced Research Projects Activity (IARPA) to develop nickel and cobalt-free all-solid-state batteries. At the same time, the company announced a partnership with SK Innovation to produce Solid Power's automotive-scale all-solid-state battery cells. SK Innovation is using Solid Power's sulfide-based solid electrolyte, proprietary cell designs and production processes to develop the batteries.
As noted above, EVs do not use all-solid-state batteries at the moment. However, the company behind the EV battery stock could make a massive breakthrough in the EV market if its efforts prove to be successful.
The Bottom Line on Electric Car Battery Stocks
The world is moving toward cleaner energy and renewables. The push toward EVs replacing internal combustion engines is accelerating. This would revolutionize the transportation industry. And it presents a huge opportunity for investors who get in on the transition to EVs early.
However, make sure to do your own research before investing. There are always risks with investing, and returns are never guaranteed. On top of that, there are many investment opportunities out there to consider.
---