Sono Motors' IPO is here. The company hit the Nasdaq exchange under the ticker SEV. Here's what happened…
Sono Motors IPO: About the Business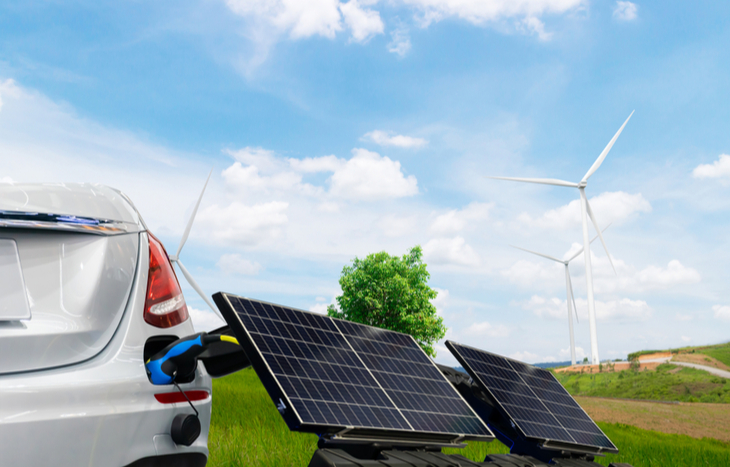 Sono Motors is a Germany-based developer of solar-powered mobility technologies. The company specializes in solar electric vehicles (SEVs) that use solar energy to generate an extra charge.
Sono Group has a goal to provide a net-zero-emission vehicle solution for the mass market. To do this, Sono Group is developing the Sion, the world's first solar electric vehicle (SEV) for the masses.
The Sion is a solar electric vehicle designed to be accessible to consumers. Its technology allows the Sion to charge its battery during the day through the power of the sun. The Sion's bodywork contains integrated solar cells using the company's technology. These solar panels capture energy from the sun and store it in the Sion's on-board battery.
The Sion has a range of up to 190 miles. It can charge via solar power or from conventional power outlets. The filing states…
We expect that the Sion's solar panels can add up to 152 miles of additional driving range per week to a car's battery, providing the Sion with full self-sufficiency on short distances or for occasional medium-distance travel. If the solar power does not provide the energy needed, the Sion can recharge using the power grid. It typically takes 35 minutes to charge up to 80% at a fast-charging station.
However, Sono Group is going further to set itself apart from other EV companies.
Sono Group in Pre-Production Stages for Flagship SEV
The Sion will retail for €28,500 ($32,266). Due to the low price tag, investors are taking notice, especially since Rivian models start at $69,000.
In the filing, Sono Motors stated…
To make the Sion affordable for the mass market without compromising security or quality, we do things differently and, we believe, much more efficiently and sustainably than traditional car manufacturers or other pure EV manufacturers.

We rely on a one-variant-only vehicle, third-party production and business-to-consumer direct distribution, which we believe will enable us to maintain relatively low overhead costs, significantly reduce our capital expenditures, and position us to become a price-value leader compared to competitors' offerings in the relevant car segments. We envision the Sion as a one-variant-only model.
The Sion's low cost makes the car attractive for mass markets and everyday use. Additionally, The Sono Motors IPO is coming in time for the company to gain capital to push the Sion into production. As of November 5, 2021, there are over 16,000 reservations on the Sion. The company expects deliveries to begin in the first half of 2023.
Sono Group Plans to Sell Proprietary Technology
Sono Group plans to sell its proprietary solar technology to manufacturers of buses, trucks, camper vans, trains and even boats. This will hurry the transition toward sustainable transport and provide a second revenue stream.
The company estimates that more than half of the vehicles sold in 2030 are suitable for solar retrofitting, including about a third that's suitable for solar integration. By 2040, it believes more than two-thirds of cars sold will be suitable for solar integration.
Sono Group's technology could lead to the emergence of mobile solar integration. Moreover, Wall Street has taken note of it. With the recent Rivian IPO and ongoing Tesla craze, the market for electric vehicles has drawn the attention of investors and financial journalists alike. Rivian is forecast to be among the top IPOs of 2021, raising $12 billion, according to Nasdaq.
The hot EV market makes the Sono Group IPO look promising. However, there's a catch. And it may be a deal-breaker for the risk-averse. Sono Group's financials show no revenue as of November 2021. Furthermore, the company is in significant debt. Let's look at the finances…
Sono Motors IPO Filing Reveals Losses
Detailed financial information is in the Sono Motors IPO prospectus, allowing you to gain more insight into the company's finances. Moreover, if you're in the market for SEV stock, let's look at the details.
Sono Motors highlights some key information for investors. The company's profit and loss statement and balance sheet data are as follows…
Revenue: Sono Motors has not recorded any revenue.
Net Income (Loss): Sono Group has incurred losses since its inception. The company reported losses of €56 million ($63.4 million) in the year 2020. Furthermore, in the Sono Motors IPO filing, the company warned it expects to continue to show losses…
We have incurred net losses since our inception in March 2016, resulting in an accumulated deficit of €108.8 million as of June 30, 2021. We believe that we will continue to incur losses and depend on external financing in the foreseeable future at least until we commence material deliveries of the Sion and the time when we significantly scale our operations, including the monetization of our solar technology.
Total Assets: Sono Motors' total assets have fluctuated. The company recorded €5.7 million ($6.4 million) in total assets as of 2019. In 2020, Sono Motors' total assets skyrocketed to €53.5 million ($60.6 million). However, Sono Group's total assets stand at  €38.6 million ($43.7 million) as of June 30, 2021.
Total Liabilities: Sono Group's total liabilities have increased. In 2019, The company recorded €24.3 million ($27.5 million) in total liabilities. As of 2020, Sono Motors' total liabilities grew to €58.4 million ($66.1 million). However, Sono Motors' reported €66.8 million ($75.6 million) in total liabilities as of June 30, 2021.
Sono Group IPO: Use of Proceeds
At its midpoint price range, the Sono Motors IPO will raise around $135 million in net proceeds after deducting expenses. As reported in the filing, Sono Motors says it will use the proceeds to finance its business. However, the Sono Group IPO will not fund production for the Sion. The filing states…
The principal reasons for this offering are to finance our business, to increase our public profile and awareness, create a public market for our common shares and facilitate our future access to public equity markets. We plan to use the expected proceeds from this offering for the completion of our next prototype generation, the so-called generation III, to position us to secure going concern until May 2023 and to secure or repay the down payments received until November 2021. Any remainder will be used for further investments to reach serial production.
The Sono Group IPO raised $150 million. So, let's look at the filing details…
Sono Motors Hits Nasdaq Exchange Under Ticker SEV
Sono Group offered 10 million common shares in the offering. Shares of common stock priced at $15, within the expected range of $14 to $16.
In addition, underwriters have a 30-day option to purchase up to 1.5 million additional common shares at the IPO price.
Shares began trading on the Nasdaq exchange on November 17 under the ticker symbol SEV. The offering will close on November 19, 2021.
Berenberg acted as sole bookrunner on Sono Motors IPO.
Furthermore, for more EV investing opportunities, check out the Polestar IPO.
As always, make sure to research before you invest. IPOs can be volatile for the first few months and share prices are constantly changing. Also, if IPO investing interests you, check out our top recent IPOs and our IPO calendar. We update the calendar daily to give you the latest news on upcoming and filed IPOs.
---
Aimee Bohn graduated from the College of Business and Economics at Towson University. Her background in marketing research helps her uncover valuable trends. Over the past year, her primary focus has been researching IPOs and other trends.