The Nuro IPO is highly anticipated by investors. The autonomous vehicle fleet helps deliver local goods to customers. Moreover, people want to get in on the company's innovative technology. So, here are the latest updates on Nuro stock…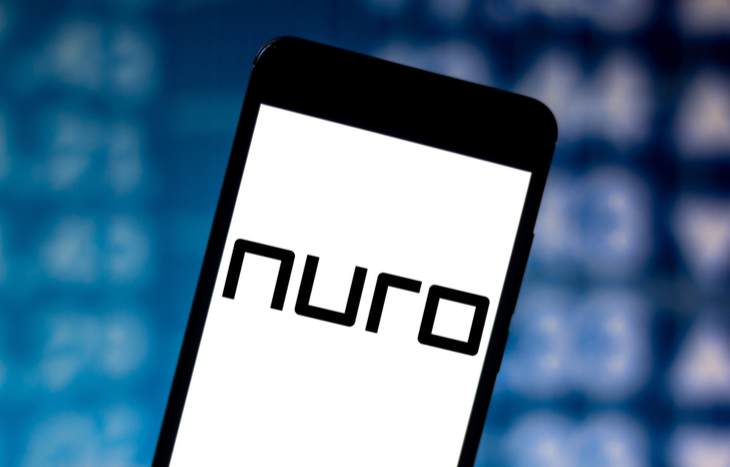 Nuro IPO: About the Company
Nuro makes autonomous vehicles and operates in Mountain View, CA. It builds and operates a fleet of electric self-driving cars that can deliver local goods, ranging from restaurant and fast food to dry cleaning. The service is accessible via mobile apps.
The company's fleet consists of three autonomous vehicles:
R2 – Performs autonomous deliveries and trains vehicles to act as part of an unmanned fleet.
Nuro – Deploys autonomous delivery service at scale.
P2 – Maps and performs autonomous deliveries with onboard safety operators.
R2 is the company's flagship product. In addition to cameras, lidar and other sensors, R2 comes equipped with mapping and predicting software. Due to the robot's inability to carry passengers, it is designed to prioritize the safety of other road users, including pedestrians, bicycles and drivers.
Nuro has partnerships with Domino's, Kroger, Walmart, FedEx, Chipotle and other companies for the delivery of products. The company currently operates its R2 vehicles in Silicon Valley, Houston and the Greater Phoenix area. Moreover, the company is hinting toward plans for expansion.
Nuro Plans for Expansion in New Markets
Co-founder Jiajun Zhu said the company is currently operating and testing in California, Arizona and Texas, with an initial focus on Houston and the San Francisco Bay Area. Furthermore, Zhu said Nuro might announce which markets are next on the startup's radar soon. However, the company is hinting that Los Angeles seems like a new potential avenue.
At TechCrunch Sessions in May, Zhu mentioned…
We recently announced that we are also doing data collection and mapping in LA. Our focus right now is just trying to make the service really, really good and make our customer happy and super excited in our existing markets.
In April, Nuro announced that it recently began mapping in LA. Moreover, the company announced that it would soon begin testing autonomous vehicles in the LA region with its Toyota Prius fleet. The company said…
Over the next few months, Angelenos can expect to see Nuro's vehicles on public roads, and later this year, we'll begin testing autonomous driving in specific neighborhoods throughout LA County. While we are not fully deployed in LA, the Nuro vehicles residents may see are laying the foundation for our autonomous delivery service.
Nuro's expansion plans bode well for investors of the highly anticipated Nuro IPO. So, where do the company's finances stand?
Nuro IPO: A look at the Finances
Nuro has an extensive list of rounds of funding. In total, the company has raised more than $2.13 billion in funding across five rounds.
Nuro's funding rounds are as follows…
Series A-1: $7,454
Series A-2: $92 million
Series B: $940 million
Series C: $500 million
Series D: $600 million
Nuro's most recent funding round took place in November 2021. The Series D funding round landed the company a staggering $8.6 billion business valuation. Moreover, this was a 72% increase from the company's previous $5 billion valuation. Following the funding round, co-founder and president Dave Ferguson said…
We're thrilled to have the backing of these prominent investors and world-class companies, and honored that they support our vision of improving communities and revitalizing local commerce. We believe this investment will allow us to accelerate our commercialization strategy and better everyday life with Nuro's technology.
The company's high valuation and investors help set it apart from other autonomous driving companies. Nuro's investors include industry giants like Google's Alphabet, Kroger, Tiger Global Management, Fidelity, Softbank and T. Rowe Price. As the company grows, retail investors want to get in on it, too. So, when can investors expect the Nuro IPO? Here's what we know about Nuro stock…
When Will Nuro IPO?
There have been no plans from the company to participate in the Nuro IPO. The company has yet to file paperwork with the Securities and Exchange Commission (SEC) to begin the IPO process.
So far, there have been no further announcements for the Nuro IPO. It seems like the company is prioritizing its commercialization strategy and overall growth for now. As a result, investors should not expect any news about the public debut any time soon. However, when the company takes the plunge into the public market, Nuro stock will likely list on the New York Stock Exchange or Nasdaq exchange.
Be sure to stay tuned for the latest news regarding the company's public debut. When investing, make sure to research thoroughly. The initial months following an IPO can be volatile. And share prices can change quickly. But if IPO investing interests you, check out our top recent IPOs and our IPO calendar. We update it daily to give you the latest news on upcoming and filed IPOs.
---